Columnar Trees for Small Gardens (With Pictures) – Identification Guide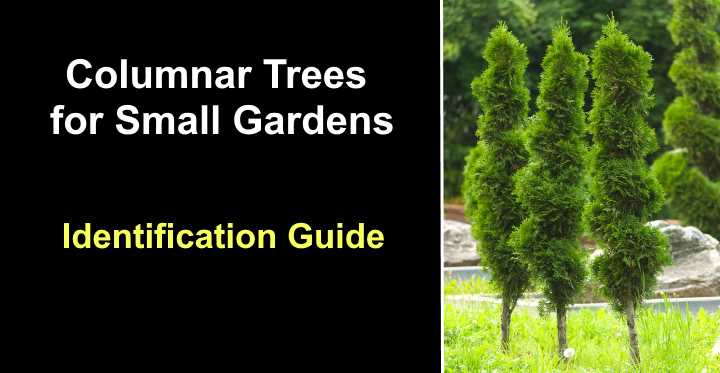 Columnar trees are a perfect solution for landscaping small gardens because they deliver impact in compact spaces. Slender deciduous and evergreen trees for narrow spaces can be a focal point, make an elegant statement, or accent a feature of your property. Ideal for tight spaces, skinny, columnar trees are crucial for small-space gardening if you want to create a natural privacy fence. Additionally, conical trees with a narrow width are perfect for growing in containers.
Of course, narrow columnar trees have many landscape uses in any size of garden. But in urban areas, where green spaces around homes are at premium, slender columnar trees have vital landscaping uses. By planting narrow trees, you can ensure that they never outgrow your small garden.
What are the best columnar trees to plant in small gardens? This article looks at 17 trees with slender girths ideal for landscaping in limited spaces.
What Are Columnar Trees for Compact Gardens
Also called fastigiate trees, columnar trees are taller than they are wide. The narrow tree species can have a column, spike, cone, or pole-like shape. Although most columnar trees are evergreens like arborvitae, spruces, cedars, and junipers, plenty of skinny deciduous trees are suited to planting in compact gardens.
To add to a landscape appeal, you can also choose from narrow trees with drooping or weeping branches. Trees with narrower forms can add shade, beauty, and protection from the sun or harsh winter winds in gardens where space is limited.
Benefits of Columnar Trees for Small Gardens
Narrow slender, upright, columnar trees are perfect for planting in compact garden landscapes. Their narrow growth habits mean the slim trees don't require a lot of room. And where space is limited in a small garden, the skinny trees, with their minimal footprint, deliver vertical appeal without encroaching on horizontal space.
Another benefit of planting pencil-like or spike-like trees is cutting down on maintenance. Many columnar cultivars and hybrids keep their conical, upright shape without much pruning. And if you plant evergreen columnar trees, you will also eliminate garden cleanup tasks in the fall.
The Best Evergreen Columnar Trees for Small Gardens
Even if you have the smallest of gardens, many evergreen columnar trees can suit your landscaping needs. Please read on to find the best evergreen trees with narrow forms, conical shapes, and foliage that remains throughout the year.
Sky Pencil Holly (Ilex crenata 'Sky Pencil')
The sky pencil holly is an evergreen shrub-like tree with a fastigiate growth habit, perfect for compact landscaping around your house. The pencil-thin holly shrub has upward-growing branches covered in small glossy green leaves. The columnar tree is ideal for planting in a small garden to create a vertical focal point.
Ideal for planting in USDA zones 5 to 8, the evergreen sky pencil holly grows 6 to 10 ft. (1.8 – 3 m) tall and less than 3 ft. (1 m) wide. Due to its narrow girth, the pencil-like tree can be planted as a thin evergreen hedge, or you can prune it and plant it along a foundation line.
'North Pole' Arborvitae (Thuja occidentalis 'North Pole')
The arborvitae cultivar 'North Pole' is a columnar conifer tree with a conical shape. This arborvitae tree, with its narrow form and soft, feathery foliage, is ideal for landscaping in a small garden. In addition, it's an ideal slender tree for growing as a hedge, natural screen, foundation planting, or specimen tree.
The 'North Pole' arborvitae grows 4 – 6 ft. (1.2 – 1.8 m) tall. But with only measuring 5 ft. (1.5 m) wide at the base, the landscape tree will suit many small gardens. Apart from planting in the ground, you can grow the conifer in a container to add greenery to an entranceway.
Suitable for planting in USDA zones 3 through 7.
Evergreen American Arborvitae 'Yellow Ribbon' (Thuja occidentalis 'Yellow Ribbon')
The 'Yellow Ribbon' American arborvitae is a cone-shaped evergreen conifer with a slender footprint. Perfect for even the smallest of gardens, this evergreen landscaping tree has beautiful yellowish-green foliage. The soft, flattened, scale-like leaves grow on ascending branches, giving the tree a columnar appearance.
The arborvitae 'Yellow Ribbon' is a tall and narrow evergreen tree. It grows between 8 and 10 ft. (2.4 – 3 m) tall and only up to 3 ft. (1 m) wide. Landscaping ideas for this conical, columnar tree are using it as a privacy screen, vertical accent, or planting at the corner of a house.
Suitable for planting in USDA zones 2 through 7.
Evergreen Colorado Blue Spruce 'Fastigiata' (Picea pungens 'Fastigiata')
The Colorado blue spruce 'Fastigiata' is a columnar, narrow, evergreen tree suitable for tight spaces and compact gardens. Features of the conical Colorado blue spruce include bluish-green needle-like leaves, pyramidal habit, and elegant shape. This evergreen conifer cultivar 'Fastigiata' is the narrowest of the blue spruce species.
The 'Fastigiata' Colorado blue spruce will be a great addition if you have a small space garden. The slow-growing conifer grows 10 to 15 ft. (3 – 4.5 m) tall and only 4 ft. (1.2 m) wide. However, the spruce will take ten years to reach its mature height.
You can plant this columnar tree in a small garden in USDA zones 3 through 8.
Evergreen Italian Cypress Tree (Cupressus sempervirens)
Also called the Mediterranean cypress or pencil pine, this evergreen tree has a distinctly columnar, narrow habit. The ornamental evergreen has fastigiate growth, greatly reducing its footprint. The tree's slender form resembles a thin pencil. Characteristics of the cypress tree are its aromatic bluish-green foliage, small oval cones, and narrow growth.
Choose the cypress 'Tiny Tower' cultivar if you have a tiny garden and need a narrow evergreen tree for landscaping. This short tree has a naturally tidy shape and remains narrow without pruning. The slender tree grows 20 to 25 ft. (6 – 7.6 m) tall and 3 ft. (1 m) wide.
The evergreen columnar Italian cypress tree is suitable for growing in compact gardens in USDA zones 7 to 10.
Spartan Juniper (Juniperus chinensis 'Spartan')
The juniper cultivar 'Spartan' is perfect for growing in a tight corner or creating a dense hedge in a small garden. The upward-growing branches and its narrow shape create an elegant landscaping tree. Attractive features of the columnar tree are its erect branches with dark-green scaly leaves.
The spartan juniper is an evergreen tree that creates an exclamation point in garden landscapes. The small garden landscaping tree grows 15 to 20 ft. (4.5 – 6 m) tall and only 4 to 5 ft. (1.2 – 1.5 m) wide. In USDA zones 4 to 9, the attractive evergreen is perfect for foundation plantings, a specimen plant, or an evergreen hedge.
Moonglow Juniper (Juniperus scopulorum 'Moonglow')
The moonglow juniper tree is a columnar evergreen conifer with a pyramidal shape. The tree is characterized by its exceptionally showy silver foliage and narrow conical form, making it an extremely attractive landscape addition for compact front or backyards. As the name suggests, the foliage is silvery like moonlight.
This columnar ornamental tree is taller than it is wide. The moonglow juniper grows 20 ft. (6 m) tall but only 8 ft. (2.4 m) wide. However, the slow-growing tree takes around ten years to reach maturity. Nevertheless, it grows well as an individual small tree in front yards. It is ideal for group plantings, living screens, or windbreaks.
In addition, you can plant this tree in containers to decorate a patio or deck area. Suitable for USDA zones 3 to 7.
Narrow Skyrocket Juniper (Juniperus virginiana 'Skyrocket')
The skyrocket juniper is one of the narrowest juniper species and has a slender, columnar shape. The versatile evergreen tree features bluish-green foliage, blue berries in the winter, and sharply-pointed leaves. Skyrocket junipers fit into tight spots in small gardens and are suitable for growing in narrow spaces between homes.
Skyrocket juniper conifers grow between 15 and 20 ft. (4.5 – 6 m) tall and only 3 ft. (1 m) wide. Its rocket-like shape makes it an ideal columnar tree to create a visual accent in any garden with limited space. You can grow the skyrocket juniper tree in USDA zones 4 to 9.
Columnar Evergreen White Spruce Tree (Picea glauca 'Pendula')
The white spruce cultivar 'Pendula' is a graceful, slender tree characterized by drooping branches cascading from the main trunk. The skinny evergreen tree has dark green needle leaves covering stems that drop almost vertically. The fast-growing columnar conifer is perfect for delivering a vertical ascent in a constricted garden space.
The weeping white spruce 'Pendula' grows 12 and 40 ft. (3.6 – 12 m) tall and 5 ft. (1.5 m) wide. This graceful landscaping tree thrives in USDA zones 2 through 7. Although it prefers cooler climates, you can grow it in warmer regions, providing it gets enough air circulation.
Tall Columnar Evergreen Eastern Red Cedar 'Taylor' (Juniperus virginiana 'Taylor')
The skinny eastern red cedar cultivar 'Taylor' has an unmistakable pencil shape, making it suitable for growing in tight spaces. It's a tall, narrow columnar landscape tree with emerald-green semi-soft foliage. The tree's slender shape gradually tapers to a point at the crown. Suitable for USDA zones 3 through 9.
The 'Taylor' eastern red cedar grows ten times taller than it is wide. The moderately-fast growing tree eventually reaches 30 ft. (10 m) tall but doesn't grow wider than 3 ft. (1 m). Planted en masse, the columnar tree is ideal as a privacy screen, border, or windbreak. It's also a great front-of-the-house tree to provide a vertical accent.
Japanese Plum Yew 'Fastigiata' (Cephalotaxus harringtonia 'Fastigiata')
Even if you are landscaping the smallest garden, you can still find suitable dwarf columnar trees, like the miniature Japanese yew 'Fastigiata.' The miniature columnar tree has long, dark needle leaves arranged radially around upward-growing stems, a narrow vertical growth habit, and tolerance for heat and shade.
The upright Japanese plum yew grows 5 ft. (1.5 m) tall and 3 ft. (1 m) wide. Its compact growth makes it a highly versatile landscaping plant for tight spaces. It works well as an attractive foundation plant, specimen plant, or to create a natural border planted in groupings.
Dragon Lady Holly (Ilex × aquipernyi 'Meschick')
The holly cultivar 'Meschick,' called Dragon lady holly, is a small evergreen tree with a dense pyramidal crown. Characteristics of the holly tree include glossy green spiky foliage, small inconspicuous white flowers, and bright red berries. The jagged leaves and densely-growing foliage make this small, columnar tree ideal as a privacy barrier, impenetrable hedge, or foundation planting for security.
With its compact, upward growth, the dragon lady holly grows 20 ft. tall (6 m) and 4 to 6 ft. (1.2 – 1.8 m) wide. Due to its columnar form, the prickly tree fits into narrow locations. Additionally, the shiny green foliage and bright red berries provide winter color.
The Best Deciduous Columnar Trees for Small Gardens
Several species of deciduous trees have a columnar growth habit and are suitable for tight spaces in small, compact gardens.
Narrow Kindred Spirit Oak Tree (Quercus x warei 'Nadler')
The kindred spirit oak tree is a fastigiate columnar oak tree suitable for planting in small gardens. The decorative features of the oak tree cultivar 'Nadler' are its slender upright shape, dark green leaves that turn copper-brown to red in the fall, and small acorns.
The compact columnar deciduous tree grows 30 ft. (9 m) tall and 4 ft. (1.2 m) wide. It is suitable for small garden spaces in USDA zones 4 to 7.
Slender Silhouette Columnar Sweetgum Tree (Liquidambar styraciflua 'Slender Silhouette')
The slender silhouette sweetgum tree has a distinct columnar shape and deciduous foliage. This landscaping tree somewhat resembles a corndog on a stick. The erect tree features a slender trunk topped by uniform, columnar foliage. As the tree matures, it retains its pole-like form, making it an excellent choice as a tall border, screen, or to grow along property lines.
The tall thin sweetgum tree can grow up to 50 ft. (15 m) tall and 5 ft. (1.5 m) wide. The columnar deciduous landscape tree thrives in full sun in zones 5 to 9.
Japanese Flagpole Flowering Cherry Tree (Prunus 'Amanogawa')
The slender Japanese flagpole cherry tree is a columnar deciduous tree famous for its stunning whitish-pink spring flowers. The outstanding features of this landscaping tree are its fragrant saucer-shaped cherry blossoms, green foliage that turns red and orange, and attractive columnar shape. This is a popular tree for compact gardens.
The Japanese flowering cherry tree grows 20 to 25 ft. (6 – 8 m) tall and has a spread of 4 to 8 ft. (1 – 2 m). You can grow this in small to large gardens in USDA zones 6 to 8.
Columnar Trees for Planters
Small trees with fastigiate (vertical) rather than horizontal branches are also perfect for growing in containers. These columnar trees for planters are ideal for adding greenery to a patio or decking area. In addition, evergreen trees with a pencil-like growth habit are ideal as an accent at entranceways.
Arborvitae 'Emerald Green' (Thuja occidentalis 'Smaragd')
'Smaragd' is one of the most popular columnar trees to grow in large containers. The evergreen tree features densely-growing emerald-green foliage, a compact growth habit, and a pyramidal shape. The 'Smaragd' arborvitae is ideal for planters on a small patio or narrow container garden. Growing in a container, the landscaping tree retains its compact size.
The semi-dwarf 'Emerald Green' American arborvitae is a slow-grower with a narrow habit. It reaches 12 to 14 ft. (3.6 – 4.2 m) tall and 3 ft. (1 m) wide. However, it will be significantly smaller in a container.
Columnar Juniper 'Gold Cone' (Juniperus communis 'Gold Cone')
The juniper 'Gold Cone' is an excellent choice if you need a columnar container tree for a compact space. The attractive features of the 'Gold Cone' cultivar are its golden yellow foliage in spring that gradually darkens to blue-green in winter. Its columnar growth and small girth make the evergreen tree perfect for growing in a planter.
Juniper 'Gold Cone' grows between 3 and 5 ft. (1 – 1.5 m) tall and up to 2 ft. (0.6 m) wide. Its upright, narrow, columnar growth creates an eye-catching exclamation point in a container. The columnar tree is also narrow enough to place in tight spaces beside a front door.
Related articles: