How to Choose The Best Type of Natural Christmas Tree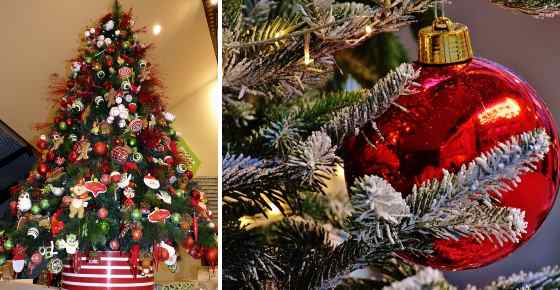 Christmas trees come in all shapes and sizes and most kinds have a fresh pleasant scent. Having a real, live Christmas tree at home becomes the focal point of the holiday celebrations. Fir, spruce, and pine trees are the main types of Christmas trees that are grown for the festive period. The perfect festive tree should have soft needles that stay on the tree for as long as possible.
For many families, choosing the best Christmas tree is part of the traditions of Christmas. Pine Christmas trees have clusters of soft needles that don't shed easily. Live spruce Christmas trees have a great blue-green color but don't retain needles as well as pines. Real fir trees for Christmas are soft green trees with good needle retention.
Of course, there are no specific species of trees called a Christmas tree. There are over 35 species of evergreen conifers that are suitable species for having in your home. Christmas trees are usually young or dwarf pine, fir, or spruces trees. The most popular festive trees are the Douglas fir (which is actually a pine tree), noble fir, Fraser fir, Scots pine, Norway spruce, or the Nordmann fir.
In this article, you will find out how to identify the many species of Christmas trees. You will learn about the best smelling trees and which ones retain their needles the longest. With the help of pictures, descriptions, and the scientific name, you will know which is the best Christmas tree for you.
What to Look for When Choosing a Christmas Tree
There are many advantages to choosing a real Christmas tree rather than an artificial one. Live trees help to add freshness and a feeling of calming forests to your home. How can you pick out the best tree for this Christmas?
First of all, you need to know the height of your room to choose a tree that fits. Also, think about the shape of your tree. Some types of coniferous trees have a traditional conical triangle shape. Some trees have spaced-out branches that are perfect for hanging decorations. Other types of soft fir trees have denser foliage. Some types of Christmas trees are long skinny trees that are perfect for small rooms.
The most fragrant Christmas trees are species of fir or pine trees with the balsam fir and Douglas fir being the best smelling ones. However, if you suffer from allergies, then it's essential to pick a species of evergreen that has no aroma at all.
The other factor to consider before buying a Christmas tree is needle retention. Trees are usually up for at least 2 to 3 weeks at the end of December and into the New Year. So, you need to make sure that the species of tree doesn't shed its needles too quickly. One of the best Christmas trees for keeping their needles is the Fraser fir.
Types of Christmas Trees with Their Picture and Common Name
Let's look in more detail at the most popular Christmas trees to choose from. Picking the best natural tree will help you ensure that your celebrations are ones to remember.
Fraser Fir Tree (Abies fraseri)
The Fraser fir is an evergreen conifer that is best known for its great needle retention, mild citrus scent, and dark bluish-green color. These factors make the Fraser fir one of the best all-around Christmas trees you can buy.
Fraser firs have the traditional pyramid shape that is formed by sturdy branches with soft green fir needles that are arranged spirally. These branches turn slightly upward giving the tree a compact appearance. This makes the fir tree a perfect choice for hanging festive decorations and fairy lights on the tree.
The advantages of a real Fraser fir as a Christmas tree are that they add a wonderful fragrance to the room and their needles don't drop easily. Due to its strong branches, you can decorate the lush green tree with heavy decorations and garlands without fear of breaking them.
Balsam Fir Christmas Tree (Abies balsamea)
The balsam fir is another small evergreen tree that has strong branches, a conical shape, and a wonderful fresh scent. Because of their great characteristics, balsam firs have become one of the most popular Christmas trees.
Needles on the balsam fir are dark green in color with hints of blue and silver. These needles have good retention on the twigs and stay on even without watering the tree. Cut branches from the tree are also used to make Christmas bouquets and wreaths.
When you look at pictures of the balsam tree, you see it has all the hallmarks of a traditional Christmas tree. The natural pyramid shape and soft spiky-looking branches give the tree an attractive appearance. Large balsam fir Christmas trees are also used in large cities to celebrate the Christmas season. So, for many people, these are the classic real-looking Christmas tree.
The advantages of balsam firs are that they have a great spicy scent and retain their needles well in warm household environments.
Douglas Fir Tree (Pseudotsuga menziesii)
The most popular live Christmas tree for homes is the Douglas fir due to its fresh strong fragrance and classic pyramid shape. The soft needles growing on strong branches mean that this species is good for having indoors.
Its scientific name shows that the evergreen Douglas fir is actually a type of pine tree despite being called a fir. Looking up close, you can identify the Douglas fir by its dark green, soft flat needles that grow in bunches. Although its branches aren't as sturdy as the balsam fir or Fraser fir, they are still good enough to support many decorations.
The advantages of the Douglas fir are that it is a soft Christmas tree with a sweet scent and good needle retention. Because this is one of the most widespread Christmas trees, they are usually cheaper than other Christmas trees.
Canaan Fir Tree (Abies balsamea var. phanerolepis)
This is a hybrid Christmas tree that is a cross between the balsam fir and Fraser fir. This excellent festive tree contains all the features of those firs that have made them such popular Christmas trees. For example, the Canaan fir is wonderfully scented like the balsam fir but holds its needles better than the Fraser fir.
Like most of the best evergreen trees for Christmas, the Canaan fir is soft to touch and has lustrous dark green foliage. Looking at the needles from all angles, you will also notice that they have a silvery-blue hint. Rubbing a few of the needles between your fingers releases strong citrus aromas.
Because this is a newcomer in the Christmas tree market, they may be more difficult to find. However, if you do find one, you will be pleasantly surprised by its great Christmas tree characteristics.
Nordmann Fir Tree (Abies nordmanniana)
If you are looking for a live Christmas tree with very soft needles, great fragrance, and lush green foliage, then the Nordmann fir is an excellent choice. These are the most popular festive trees in Europe and looking at pictures of it, it is easy to see why.
Nordmann firs have the traditional Christmas tree shape with symmetrically arranged branches that point slightly upward. The needle-covered branches are not densely packed, meaning that it is easy to hang all your lights and decorations on them. These beautiful Christmas trees have good needle retention similar to Fraser firs but with softer needles.
The advantages of Nordmann firs are that they hold their needles extremely well after the tree dries out and they are mildly fragrant.
Popular Types of Christmas Trees with Their Picture and Common Name
Noble Fir Christmas Tree (Abies procera)
As its common name suggests, the noble fir is an attractive evergreen conifer with short bluish-green needles and short stiff branches. This fir tree is so commonly used during Christmas that it is also called the "Christmastree."
During the festive period, the soft needle-laden branches from noble firs are also used to make garlands, door swags, and Christmas wreaths.
Noble firs are now popular Christmas trees as their shape is similar to the Douglas fir. However, these firs have a deeper green color and hold their needles just as good as balsam firs.
The advantages of noble firs are that their branches curve upwards, making it easy to hang decorations, and it has a mild appealing aroma. The needles retain so well on the branches that they may last for all of the festive season.
White Fir Tree (Abies concolor)
White firs are popular Christmas trees because of their soft needles, excellent needle retention, and good aroma. You may find that these fir trees are also named concolor Christmas trees.
White fir trees are identified by their lush needle-like flattened blueish-green leaves that are soft to touch. The needle leaves also have blue-white bands on the underside of the leaves. The triangular shapes of the fir tree, its compactly growing branches, and light color make this a delightful Christmas tree.
Because white fir trees take longer to grow than other conifers in the Pinaceae family, this species can be some of the more expensive Christmas trees for sale.
The advantages of the white or concolor fir tree are that it has wonderfully scented needles that smell of citrus and they don't fall off.
Scots (Scotch) Pine Tree (Pinus sylvestris)
Native to Europe, another popular real live Christmas tree is the Scots pine. This festive tree is popular due to its attractive green needle leaves, strong branches, and pleasant pine scent. These pine trees also keep their needles for a long time after being cut.
Although not as popular as the Fraser fir or Douglas fir, it is still one of the common pines that are used as Christmas trees. In their native habitats, Scots pines tend to grow crooked or twisted branches. When grown in plantations for the Christmas trade, care is taken to ensure good triangular shape, straight trunks, and well-formed branches.
The needles tend to be sharper than many of the fir Christmas trees, so take this into consideration if you are thinking of buying this.
The advantages of choosing a Scots pine for Christmas is that they have excellent needle retention and a fresh pine forest scent.
Virginia Pine Tree (Pinus virginiana)
The Virginia pine tree is a beautiful festive tree with short needles, a mild pine scent, and a real Christmas tree triangular shape. Many tree growers use pine tree seeds that are specifically cultured to grow the best-looking Christmas trees.
It is easy to identify the Virginia pine tree due to its short needles that grow in clusters of two. You will also notice short branches that grow densely on the trunk and curve upwards at the end. This makes hanging Christmas ornaments and lights extremely easy on this beautiful evergreen conifer.
Some of the advantages of buying a cultivated Virginia pine tree at the end of December include having a mild fragrance and beautiful shape.
Other Types of Christmas Trees with Their Picture and Common Name
There are many more species of evergreen pines, firs, and spruces that you can choose as a natural live Christmas tree.
Norway Spruce Christmas Tree (Picea abies)
One of the most popular evergreen spruces to use as a Christmas tree is the Norway spruce, also called the European spruce. If you have seen pictures of London at Christmas time, then it is the giant Norway spruce that decorates Trafalgar Square in December.
As a Christmas tree, Norway spruces have an excellent rich green color and a good shape. It has the classic conical shape with branches that point skyward and are covered in soft needles.
If you decide on a Norway spruce to celebrate Christmas, then you need to care for it properly. Needle retention is poor and it needs plenty of water to prevent needle drop.
This species is sometimes called the "red fir tree" due to the unique red color of the bark.
Eastern White Pine Tree (Pinus strobus)
White pines are evergreen conifers that have long feathery needles in clusters of 5, good green color, and nice triangular shape. Their soft needles also make the foliage of white pines perfect for creating natural Christmas decorations.
If you suffer from allergies, then the white pine tree is a perfect choice for Christmas time. The needle retention is excellent on this species but it has almost no aroma. So, if strong scents in the home cause unpleasant respiratory reactions, choose a white pine Christmas tree.
Blue Spruce Christmas Tree (Picea pungens)
If you are looking for a unique type of Christmas tree this December, the blue spruce is an interesting species of conifer. Some people also say that, due to its conical shape, this is one of the best-looking Christmas trees around. This tree is also called the Colorado blue spruce, white spruce, or green spruce.
Another reason for choosing a blue spruce as a living Christmas tree its needle retention. Spruces are notorious for dropping needles after they have been cut. However, this species of spruce holds its needles very well.
Blue spruce Christmas trees don't have much aroma and may give off an unpleasant scent if the needle leaves are crushed.
Red Cedar Christmas Tree (Juniperus virginiana)
The red cedar is a "skinny" type of Christmas tree that has a thin pyramid shape, pleasant scent, and soft shiny dark green leaves.
You will notice that these cedars have very dense foliage which may make decorating them a challenge. Many types of these trees don't have the protruding stem at the top which many people use for angel or star Christmas decorations.
Despite this, red cedars are the Christmas tree of choice for many people living in eastern United States.
Arizona Cypress (Cupressus arizonica)
Known for its perfect triangular shape and silvery bluish-gray needles, the Arizona cypress is a popular landscaping evergreen and Christmas tree. This cypress species gives off a pleasant fresh scent that is somewhere between pine and juniper with hints of citrus fruits.
Due to its unique color, this is sometimes called the Ice Blue Christmas tree.
Leyland Cypress Tree (Cupressus leylandii)
If you suffer from allergies and want a soft-needled cypress Christmas tree, choose the Leyland cypress. This dark green soft evergreen gives off very little aroma and doesn't have sap. The green conifer has a good Christmas tree shape and keeps its needles even in warm dry weather.
Canadian Spruce (Picea glauca)
Also called the white spruce Christmas tree, the Canadian spruce has thin spiky leaves that are needle-like. They are a bluish-green color on the top and blue-white underneath. The Picea glauca 'Christmas Star' cultivar is a compact conifer with a conical shape that grows well in containers. This is a long-lasting Christmas tree that can continue growing long after the festivities have passed.
Related articles: