Types of Cherry Trees with Their Leaves and Flowers – Identification Guide (Pictures)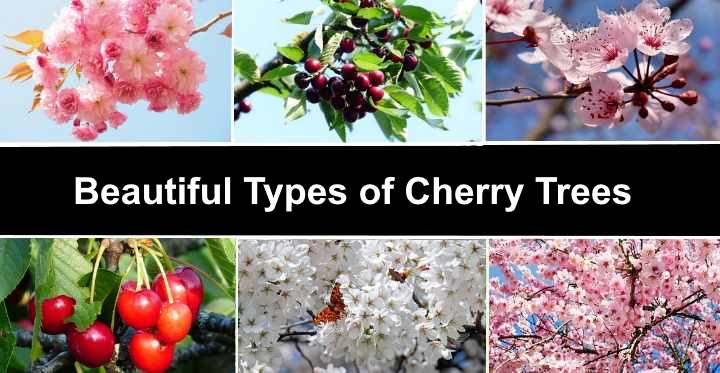 Cherry trees (Prunus) are spectacular flowering fruit trees that bloom in spring. There are hundreds of varieties of cherry trees—some produce delicious cherry fruits, whereas others are ornamental cherry blossom trees. Cherry trees have beautiful whitish-pink blossoms covering bare branches in spring. Cherry trees have glossy green oval leaves with pointed tips and serrated edges.
This article is a complete guide to various types of cherry trees. Along with descriptions of their leaves and flowers, pictures of cherry trees will help identify these stunning blossom trees.
Cherry Tree Facts
Cherry trees belong to the genus Prunus and are in the family Rosaceae. Cherry trees are deciduous trees, famous for their sweet or sour stone fruits called drupes and their eye-catching blossoms.
Species of cherry trees are categorized by their fruit or blossoms. There are sweet cherries (Prunus avium), sour cherries (Prunus cerasus), and ornamental cherry blossom trees. Typically, fruit from cherry blossom trees is too small and sour to eat—although they are a favorite of many birds.
Cherry trees blossom in spring between mid-March and mid-April. Usually, cherry trees are in bloom for two to four weeks. Cherry blossoms grow in small clusters, hanging from bare branches. After blooming, clusters of sweet or sour cherries appear.
Cherry trees grow in USDA zones 5 through 9. However, some cold-hardy cherry trees can withstand temperatures in zone 4.
To grow cherry trees, plant the tree in well-draining soil in full sun. Cherry trees are not drought-tolerant plants, and the soil should be kept moist without being soggy or waterlogged. Once established, cherry trees are low-maintenance garden landscape trees that need little pruning.
Cherry Tree Flowers
Cherry trees are famous for their spectacular displays of flowers in various hues, from white to light pink and dark pink. There are three types of cherry flowers—single blossoms, semi-double blossoms, and double blossoms. Each cherry flower has at least five petals. However, showy double blossoms can have over 50 petals in each flower.
Cherry blossoms are also called sakura. Some of the most famous types of flowering cherry trees are the Yoshino cherry (Prunus yedoensis), the Japanese cherry blossom tree (Prunus serrulata), and the double weeping cherry tree (Prunus x subhirtella 'Pendula Plena Rosea').
Color of Cherry Tree Blossoms
Cherry blossoms are typically white to light pink. However, some cherry tree varieties have dark pink blossoms with showy double flowers. Some more unusual cherry trees, such as the Prunus 'Ukon' have pale yellow cherry blossoms. And the Prunus 'Gyoiko' has pale green cherry blossoms that look like hibiscus flowers.
Cherry Tree Bark
Cherry fruit trees and ornamental cherry trees generally have gray or brown bark. Some cherry tree varieties have bark that peels slightly to reveal a deep mahogany color underneath. The wild cherry tree (Prunus avium) often has stunning smooth reddish bark with horizontal cut-like marks called lenticels.
Cherry Tree Fruit
Cherry trees produce clusters of fruits. Cherry fruits range in flavor from sweet to sour. Depending on the cherry tree type, cherries can be deep red, yellow with red blushing, or black. Typically, fruit from ornamental cherry blossom trees is inedible and too sour to eat.
Cherry Tree Leaves
Cherry trees have large, lanceolate-shaped, glossy green leaves with toothed edges. Leaves appear on early-blooming cherry trees after the flowers. In fall, cherry tree leaves turn warm shades of orange, golden-yellow, bronze, and red. In summer, dense cherry tree foliage makes many species of cherry trees (Prunus) excellent shade trees in garden landscapes, parks, or residential streets.
Cherry Tree Identification
Cherry trees can be identified by their brown to gray bark with horizontal cuts on it. Cherry bark may peel, however, cherry bark is hard and doesn't become shaggy. Cherry leaves are oval shaped with pointed tips and have a deep green color. In spring, cherry trees are easy to identify by their pinkish-white blossoms.
Types of Cherry Trees (With Pictures)
Here are some of the many types of cherry trees – including their pictures.
Wild Cherry Tree (Prunus avium)
Also called sweet cherry trees, wild cherries are flowering trees that produce large, sweet juicy cherries. Wild cherry trees have blossoms of single white flowers that bloom in spring. Depending on the cultivar, fruits from cherry trees can be crimson red, golden yellow, or reddish-purple. Wild cherry trees are unique with their smooth reddish-burgundy bark.
Wild cherry trees have a conical crown that becomes rounded as the tree matures. Although sweet cherry trees have white spring blossoms, they are cultivated for their deliciously sweet stone fruits.
Most sweet cherry cultivars grow in zones 5 through 7. The flowering fruit trees should start producing fruit in four to seven years after planting.
Some popular types of sweet cherries include the following:
Bing cherry fruits. Heart-shaped sweet fruits with a deep red color.
Rainier cherry fruits. Sweet yellow cherry fruits with hints of red and a deliciously sweet taste.
Lamber cherry fruits. Large cherry fruits that are a dark red, almost black color.
Lapins cherry fruits. Another type of large cherry. These cherries are sweet as they ripen and can grow up to 1" (2.5 cm) across.
Chelan cherry fruits. Chelan cherries are almost black when they're ripe. However, they are not as sweet as some of the other cherry varieties.
Wild cherry tree bark: Wild cherry trees have bark that is reddish and smooth. You can identify the bark by slits in the bark running horizontally around the shiny bark.
Sour Cherry Tree (Prunus cerasus)
Sour cherry trees are small to medium-sized trees that produce white blossoms and small tart fruits. The most popular sour cherry tree (Prunus cerasus) cultivars are the 'Montmorency' and 'Morello.' These cherry trees are late bloomers and have masses of white flowers along with the leaves. The tart red berries have a tangy flavor and are used for baking and making pies.
Sour cherry trees grow up between 13 and 32 ft. (4 – 10 m) high. Most sour cherry cultivars have an upright, spreading growth habit. Lush dark green foliage covers the tree branches to provide shade underneath.
Tart cherry trees grow in USDA zones 5 to 9. As with all cherry trees, grow sour cherry trees in full sun, ensuring the ground is always moist and never soggy.
Cherry tree fruit: Sour cherry trees produce edible, tangy cherries, usually a dark red color.
Stella Cherry Tree
Stella cherry trees produce spring blossoms with white flowers followed by sweet red cherries in summer. Stella cherry trees have an upright growth habit and a vase-shaped canopy. During summer, the branches are packed with dense, bright, glossy green leaves. Stella cherries are delicious straight off the tree or used in baking.
Stella is a semi-dwarf cherry tree cultivar, growing to about 15 ft. (4 m).
Stella cherry trees are a self-fertile cultivar of the wild cherry Prunus avium. You can plant Stella cherry trees as a specimen tree or in an orchard.
Cherry tree fruit: Stella cherries are deliciously sweet, similar to Bing cherries. The fruit color is dark, almost black, and the fruits have red flesh.
Black Cherry Tree (Prunus serotina)
Black cherry trees are large trees native to North America. Black cherry trees produce fragrant white flowers that hang in clusters from the branches. Prunus serotina produces small black cherries that are bitter and inedible when eaten raw. Black cherry trees have typical oval leaves with pointed tips and serrated margins.
Black cherry trees have smooth greenish bark that gradually becomes hard and gray with deep fissures. The grooves in the grayish-black peeling bark reveal a reddish color. The dark green foliage turns to shades of yellow and red in the fall before dropping.
Black cherries are forest trees that grow between 50 and 80 ft. (15 – 24 m) tall. Their broad, rounded crown grows up to 60 ft. (18 m) wide which makes this tree an excellent ornamental shade tree.
Cherry tree fruit: Although the black cherries are inedible raw, you can use them to make jellies or jams.
Types of Ornamental Cherry Trees
Many species of cherry trees are grown for their attractive spring blossoms. Let's look in more detail at some of the most spectacular decorative cherry blossom trees for your garden landscape.
Japanese Cherry Blossom Tree (Prunus serrulata)
Japanese flowering cherry trees burst into color in early spring with blossoms in shades of white to dark pink. Prunus serrulata cultivars can have single, semi-double, or showy double flowers. Only some Japanese sakura trees produce clusters of small cherries. However, the tiny, tart fruits are inedible due to their sourness.
Japanese cherry blossom trees grow between 15 and 25 ft. (4 – 8 m) tall with a spreading crown of 25 ft. (8 m) wide.
The most attractive feature of Japanese sakura trees is their showy flowers on bare branches. Some cultivars have ruffled double pink flowers, whereas others have gorgeous white blossoms with clusters of single flowers.
Prunus serrulata 'Kiku-Shidare-Zakura' is the weeping Japanese cherry blossom cultivar. This small cherry tree with pendulous branches has masses of cascading pinkish-white ruffled blossoms growing in large clusters.
Cherry tree blossoms: Japanese cherry blossom (sakura) has showy flowers in delicate hues of pinks and whites.
Double Weeping Cherry Tree (Prunus x subhirtella 'Pendula Plena Rosea')
The Weeping Cherry blossom tree has arching branches that are covered in double pink flowers. Double weeping cherry tree has pink blossoms. The tree's drooping growth habit makes this weeping cherry blossom tree particularly attractive in spring. After flowering, pointed, oval leaves appear, which turn golden yellow in the fall.
Double weeping cherry trees are spectacular landscape trees that grow between 15 and 25 ft. (4 – 8 m) high. These drooping cherry trees have clusters of sour black fruits that attract many birds. The green leaves are ovate with serrated edges and turn an attractive red or yellow color in the fall.
Cherry tree blossoms: 'Pendula Plena Rosea' flowers have up to 20 twisted petals in various shades of pink. The showy blooms grow in clusters of four flowers and dangle from long stems on arching branches.
Weeping Higan Cherry Flowering Tree (Prunus subhirtella 'Pendula')
Weeping Higan cherry blossom trees are tall trees with cascading branches that fill with double white to pink flowers in spring. Prunus subhirtella 'Pendula' has glossy green oval leaves that turn a vibrant yellow color in the fall. During summer, clusters of small oval black fruits appear that attract various birds and mammals.
Higan weeping cherry blossom trees grow between 20 and 30 ft. (6 – 10 m) tall. There's no need to prune cherry trees; however, you can prune the weeping branches to allow access under the tree's rounded canopy.
Cherry tree blossoms: Higan cherry blossom trees have double pink flowers growing in clusters of two to five blooms. The eye-catching cherry blossoms cover the drooping branches, creating a cascading effect of pink flowers.
Yoshino Cherry (Prunus x yedoensis) 
Yoshino cherry blossom trees are one of the most famous Japanese sakura trees. The magnificent cherry tree explodes into shades of white and pale pink blossoms in spring. The single flowers have a pleasant fragrance. After blooming, dark green lanceolate leaves make up the summer foliage before turning warm shades of red in the fall.
Also called Somei-Yoshino cherry trees, these flowering trees grow between 16 and 30 ft. (5 – 12 m) tall.
During sakura festivals, Yoshino cherry trees are often the star attraction as hordes of people flock to see the fantastic floral displays.
The Prunus x yedoensis 'Shidare-Yoshino' cultivar is a weeping variety of the popular Yoshino cherry tree.
Cherry tree blossoms: The Yoshino cherry blossoms are dainty single white flowers with five petals each. The flowers grow in large clusters that cover bare branches to create stunning cherry blossoms in spring.
Kanzan Cherry Blossom Tree (Prunus Serrulata 'Kanzan')
Kanzan cherry blossom trees have eye-catching double flowers in darker pink colors. This double-flowered Japanese cherry tree is a highly ornamental flowering tree. After the blossoms drop, reddish-copper leaves appear that gradually turn dark green. In the fall, the glossy green foliage turns to shades of orange and bronze.
Also called Kanzan or Sekiyama cherry trees, this type of cherry blossom tree grows between 25 and 30 ft. (8 – 10 m) tall.
Cherry tree blossoms: Kanzan cherry blossom tree has ruffled double flowers that contain 20 to 30 petals and are 2.5" (6 cm) wide. The delightful rich pink flowers grow in pendulous clusters that add stunning colors to spring gardens, parks, and landscapes.
Okame Cherry Tree (Prunus x incam 'Okame')
Okame cherry trees are another popular type of Japanese blossom cherry tree. This flowering cherry tree hybrid produces masses of deep pink to red blossoms on bare branches. Due to its elegant vase shape, spreading branches make Okame cherry blossoms a spectacular sight in early spring. Leaves are ovate-shaped and dark green in summer before turning bright orange in the fall.
Okame cherry blossom trees grow between 15 and 25 ft. (4.5 – 8 m) tall. Their thin trunk, beautiful shape, and color make them popular garden landscape trees.
Cherry tree blossoms: Okame cherry blossoms are five-petaled single flowers in rich pink color. The dark red flower centers give the blossoms an even more striking appearance. The dainty blossoms give off a pleasant fragrance.
Dwarf Flowering Fuji Cherry Tree (Prunus incisa 'Kojo-No-Mai')
Dwarf Fuji cherry blossom trees are small shrub-like trees that have breathtaking whitish-pink blossoms. This cultivar of prunus incisa has lance-shaped leaves growing on zig-zag branches. The rounded growth and compact size make this dwarf cherry blossom tree ideal for small, compact front or backyards.
Fuji cherry blossom tree 'Kojo-No-Mai' only grows up to 6 ft. (2 m) tall. It has unusual branch patterns, white blossoms, green leaves, and orange fall foliage. This tree is also small enough to grow in containers on a balcony or patio.
Cherry tree blossoms: Fuji cherry blossoms are masses of white single, fragrant flowers that bloom in early March.
Snow Fountain Dwarf Weeping Cherry Blossom Tree (Prunus serrulata 'Snow Fountain')
The dwarf snow fountain weeping cherry blossom tree has cascading branches covered in clusters of beautiful white flowers. The fragrant cherry blossoms appear in mid-spring and bloom for three weeks. The arching branches produce small black cherry fruits after flowering and dark green leaves that turn orange and bronze shades in the fall.
Also called 'Snofozam,' 'Snow Fountain' Japanese cherry blossom trees grow between 8 and 15 ft. (2.4 – 4.5 m) tall. Their arching, pendulous branches give the rounded canopy a slender look. This is a spectacular ornamental cherry tree for lawns, garden landscapes, or as a specimen tree.
Cherry tree blossoms: 'Snow Fountain' cherry blossoms are brilliant snow-white single flowers on cascading branches creating a spectacular white waterfall effect.
Related articles: