Florida Trees With Yellow Flowers – Identification Guide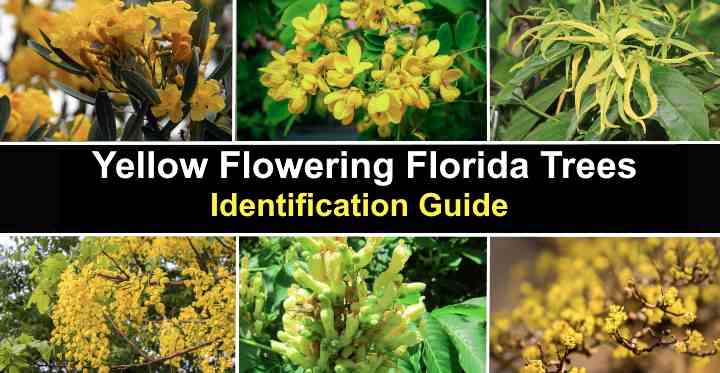 Trees with yellow flowers are a common sight in Florida landscapes. The most popular yellow-flowering trees in the Sunshine State are trumpet trees (Tabebuia or Handroanthus) and cassia trees. However, many other varieties of deciduous and evergreen trees grace Florida's tropical and subtropical outdoor spaces with spectacular bright yellow floral displays.
Small Florida trees with yellow flowers are ideal for enhancing the aesthetics of a front or backyard. Tall trees with yellow flowers provide shade, fragrance, and color in Florida's warm, tropical climate. Whether you live south of Miami or along the Panhandle, yellow-flowering trees are a spectacular sight in the southeastern United States.
This article is an identification guide to the best Florida trees with yellow flowers. Descriptions and pictures of the flowering trees will help you choose the best species to add vibrant colors to your garden landscape. Additionally, you will learn about the growth, maintenance, and benefits of each tree species.
How to Identify Trees With Yellow Flowers in Florida
To identify trees with yellow flowers in Florida, look at the tree's overall size and shape and type of flowers. For example, many yellow flowers on Florida trees are trumpet-shaped and grow in large clusters. Also, consider the shape of the tree's leaves, type of bark, and fruit or seed pods they produce in the fall.
For example, the golden trumpet tree has large funnel-shaped yellow flowers with papery petals growing in abundant clusters. However, yellow-flowering golden shower trees tend to have smaller flowers growing in drooping bunches, like grapes hanging from a vine.
Common Types of Yellow Flowering Florida Trees
Trumpet trees and cassia trees are the most common trees in Florida to produce yellow flowers. However, other trees with brilliant yellow flowers include the sweet acacia, frangipani, golden rain tree, and the Chinese flame tree. These trees produce golden-yellow floral displays throughout the year. Additionally, they attract native butterflies and bees.
Yellow Flowering Florida Trees (With Pictures)
Let's look in more detail at the most popular flowering Florida trees with yellow blooms.
Yellow Flowering Trumpet Trees (Tabebuia or Handroanthus spp.)
Yellow flowering trumpet trees are a common sight throughout Florida. The spectacular ornamental trees are identified by their masses of yellow trumpet-shaped flowers in early spring on bare branches. The semi-deciduous trees thrive in full sun and grow best in warm climates. Trumpet trees are known for their funnel flowers measuring 2" to 3" (5 – 7.5 cm) across, covering the trees in beautiful colorful displays.
Yellow flowering trumpet trees are perfect for planting as specimen trees or in groups in a sunny Florida landscape. In addition, these trees are low maintenance and drought tolerant, making them ideal for arid regions.
All trumpet trees used to be classified in the genus Tabebuia. However, some species of trumpet trees now belong to the genus Handroanthus. All varieties of yellow flowering trumpet trees are suitable for growing in USDA zones 9 to 11.
Golden Trumpet Tree (Handroanthus chrysotrichus)
The golden trumpet tree is a stunning yellow-flowering tree for tropical Florida landscapes. The nectar-rich, yellow, trumpet-like flowers bloom in huge clusters in early spring before the leaves appear. The flowers grow 3" (7.5 cm) long and cover the tree in a bright yellow canopy.
Golden trumpet tree is an excellent choice for a sunny landscape as a specimen or street tree. The semi-deciduous tree grows 15 to 25 ft. (5 – 8 m) and has a spreading canopy up to 35 ft. (11 m) wide. It's suitable for planting in Central and South Florida in USDA zones 10 and 11.
Yellow Trumpet Tree (Handroanthus serratifolius)
The common yellow trumpet tree is a stunning sun-loving tree for Florida with sunny yellow trumpet-shaped flowers. Also called yellow poui, the showy yellow flowers bloom in beautiful clusters. The yellow-flowering tropical tree grows 25 to 40 ft. (7.6 – 12 m) tall and has a wide spreading canopy.
Yellow Tabebuia (Handroanthus umbellatus)
Handroanthus umbellatus is also called the yellow tabebuia. It is a sun-loving flowering tree that produces dense clusters of brilliant yellow funnel-shaped blossoms in the spring. The medium-sized tree grows 25 to 30 ft. (7.6 – 10 m) tall. You can grow this yellow flowering trumpet tree throughout Florida, as it's cold-hardy in the Panhandle and north of Orlando.
Caribbean Trumpet Tree (Tabebuia aurea)
The Caribbean trumpet tree is a tropical tree that blooms with bright yellow flowers in the shape of a trumpet. The large, showy flowers grow in clusters and cover the tree during spring before the leaves emerge. The cheerful yellow flowers measure 3" (7.5 cm) across and are followed by long 10" (25 cm) long seed pods.
Also called the tree of gold or silver trumpet tree, this tropical Florida tree grows up to 25 ft. (8 m) tall. The yellow tabebuia tree grows well in warm, humid climates. Therefore, it is ideal for planting in Central and South Florida coastal regions.
Yellow Flowering Cassia Trees
Yellow cassia trees are stunning fast-growing trees in Florida landscapes with bright yellow flowers which bloom in abundance. Varieties of cassia trees come in various sizes—from dwarf ornamental trees to large shade trees. Their vibrant yellow pendulous flowering clusters add a pop of color to sunny tropical gardens in the southeastern United States.
Yellow-flowering cassia trees produce stunning floral displays and have a fast growth rate. They can grow 33 to 66 ft. (10 – 20 m) tall and wide, with a deciduous habit during the winter months. The trees feature pinnate leaves with up to 16 leaflets on each leaf. Additionally, long brown seed pods appear in the fall.
Related reading: Cassia shrubs for Florida landscapes.
Yellow Poinciana (Peltophorum pterocarpum)
Yellow poinciana is a common yellow-flowering tree in Central Florida. Also called the yellow-flame tree, the eye-catching deciduous tree is identified by its five-petalled showy yellow flowers forming large clusters. In bloom from spring through fall, the brilliant yellow blossoms create a blanket of golden colors over the tree's canopy.
Yellow Poinciana trees grow 30 to 50 ft. (10 – 15 m) tall and have a wide, spreading canopy. The tree's feathery leaflets, exotic yellow flower clusters, and woody seed pods give the ornamental tree visual appeal throughout the year. Additionally, the tree's bright yellow flowers attract pollinators and add a burst of color to any landscape.
Yellow Poinciana is suitable for growing in Florida south of West Palm Beach and Fort Myers in USDA zones 10 and 11.
The pink-flowering royal poinciana tree is easy to mistake for jacaranda trees in Florida.
Blue Palo Verde (Parkinsonia florida)
Blue Palo Verde is a drought-tolerant tree for Florida landscape that has outstanding showy golden yellow flowers. This native Florida tree features a unique green trunk and branches. However, its most notable feature is its brightly colored yellow flowers blooming from spring through summer. Also, the loosely spreading crown has small blue-green leaves that create dappled sunlight and shade in Florida landscapes.
Blue Palo Verde grows 20 to 25 ft. (6 – 8 m) tall and 20 ft. and (6 m) wide. Additionally, the large yellow blooms grow 4" (10 cm) across and cover the tree early in the season and after rainfall. Blue Palo Verde is an ideal shade tree for large landscapes throughout the Sunshine State.
Chinese Flame Tree (Koelreuteria bipinnata)
Chinese flame tree is a small deciduous ornamental tree known for its showy, bright yellow flowers that bloom in summer. The large clusters of flowers grow 12" to 24" (30 – 60 cm) long, creating one of the most spectacular floral displays in Florida landscapes.
Other ornamental features of the Chinese flame tree are its papery, lantern-shaped seed pods, bipinnately compound leaves, and eye-catching fall foliage when the leaves turn yellow.
The Chinese flame tree grows 20 to 40 ft. (6 – 12 m) tall and wide. The tree is ideal for planting as a shade, specimen, or street tree in full sun and well-drained soils.
Chinese flame tree is suitable for growing in Florida north of Lake Okeechobee in USDA zones 7 to 9.
Golden Rain Tree (Koelreuteria paniculata)
The golden rain tree is a beautiful tree blooming with clusters of bright yellow, star-shaped flowers creating showy displays of color. These long yellow flowering spikes bloom in early summer, followed by papery seed capsules resembling Chinese lanterns. The tree has a rounded shape and grows 30 to 40 ft. (9 – 12 m) tall and wide making it an excellent choice for landscaping large areas in Florida.
The golden rain tree is an excellent specimen tree for sunny landscapes. It thrives in most areas of Central and North Florida. Its heat, wind, and drought tolerance make it a valuable landscaping tree in the Sunshine State.
Sweet Acacia (Vachellia farnesiana)
Yellow flowering sweet acacia grow well year-round in South and Central Florida. Sweet acacia tree is a small ornamental tree that produces fragrant yellow flowers in the shape of fluffy balls. The small tree, also called needle bush or Mimosa farnesiana, has feathery, fern-like leaves like mimosa plants. It grows 15 to 30 ft. (4.5 – 9 m) tall and wide.
Sweet acacia trees are low-maintenance trees that thrive in hot and dry conditions. The tree is ideal for planting in small gardens as a specimen tree or in a group to form a security or privacy hedge.
Its thorny branches and dense green foliage also help keep out intruders and unwanted wildlife. The tree also provides shade and makes an excellent windbreak.
Sweet acacia is suitable for growing in USDA zones 9 through 11.
Frangipani Tree (Plumeria)
Frangipani trees are tropical trees popular for their fragrant and colorful yellow flowers. The tropical flowers bloom from May through November and can be white, yellow, pink, red, or orange. The large, distinctive flowers have five oval petals arranged in a spiral pattern.
Frangipani trees typically grow 6 to 8 ft. (1.8 – 2.4 m) tall. Unfortunately, they only thrive in South Florida in USDA zone 10 because they don't tolerate cold. However, in a tropical landscape and sunny location, the yellow-flowering trees require little care apart from occasional pruning.
Ylang Ylang Tree (Cananga odorata)
Ylang ylang tree is a fast-growing tropical Florida tree with unusual golden yellow flowers. The highly fragrant flowers consist of six 1" (2.5 cm) long petals that resemble leaves. In tropical climates like South Florida, ylang-ylang trees can bloom on and off throughout the year. The eye-catching drooping yellow flowers have a strong fragrance and a sweet, floral scent.
Ylang ylang trees have an annual growth rate of 12 ft. (5 m) before maturing at 40 ft. (12 m) tall. As a yellow-flowering shade tree, ylang-ylang has evergreen foliage of shiny pinnate leaves. Ylang ylang trees are suitable for planting outdoors in USDA zones 10 and 11.
Yellow Flowering Hibiscus Tree (Hibiscus rosa-sinensis)
Tropical hibiscus is a group of large shrubs that can grow as trees. The exotic plants are known for their showy trumpet-shaped flowers, protruding stamens, and dark throats. Native Florida hibiscus plants are typically red-flowering shrubs. However, tropical hibiscus plants with yellow flowers also thrive in the Sunshine State.
Here are two varieties of yellow-flowering hibiscus plants that thrive in Florida:
Hibiscus rosa-sinensis 'Hula Girl': The tropical plant has brilliant yellow flowers with a deep red throat. You can plant them as foundation plantings, shrub borders, or evergreen flowering hedges.
Hibiscus rosa-sinensis' Yellow': The large exotic flowers are pure yellow with a yellow stamen and throat. The rounded, upright shrub has a rapid growth habit and grows up to 4 ft. (1.2 m) tall.
Related reading: How to grow hibiscus trees.
Magnolia 'Butterflies' (Magnolia 'Butterflies')
Magnolia 'Butterflies' is a small tree with masses of tulip-shaped yellow flowers. The sun-loving deciduous tree blooms in spring with fragrant yellow flowers. These cup-shaped flowers consist of upward pointing petals and red stamens. The yellow-flowering magnolia looks stunning in a Florida landscape as its yellow flowers cover naked branches and emit a lemony scent.
After blooming, leathery leaves appear in late spring. Thriving in USDA zones 5 through 9, the ornamental tree is a great addition to Central and North Florida landscapes. You can plant magnolias in full sun to partial shade as an accent tree, flowering hedge, or border plant.
Senna spectabilis
Senna spectabilis is a breathtaking tree adoring southern gardens with stunning yellow floral displays. Also called the American cassia or golden wonder tree, the ornamental tree has a rounded, vase-shaped crown, evergreen foliage, and clusters of bright yellow flowers blooming throughout summer. The yellow flowering clusters measure 4" to 20" (10 – 50 cm) long.
Senna spectabilis is a fast-growing tree that can reach 15 to 20 ft. (4.5 – 6 m) tall and wide. Apart from its beautiful flowers, the other ornamental feature of the tree is its long seed pods growing 12" (30 cm) long. The gorgeous flowering tree is ideal for planting in large landscapes as a specimen plant, accent tree, or shade tree.
The Senna spectabilis tree is suitable for planting in USDA zones 9 to 11. The tree is tolerant of drought and can grow in a wide range of soil types.
Some botanical books list Senna spectabilis as a member of the Cassia genus.
Yellow Buckeye (Aesculus flava)
The yellow buckeye tree is a beautiful deciduous tree with showy yellow flowers growing in erect conical clusters 6" (15 cm) tall. The spring-blooming shade tree features palmate compound leaves with five lanceolate leaflets. The flowers are followed by buckeye fruit—a shiny brown nut encased in a smooth, green husk. Additionally, the green leaves turn a spectacular rusty orange color in the fall.
Yellow buckeyes only perform well in the northern part of Florida. The shade tree grows 50 to 75 feet (15 – 23 m) tall and has an oblong-rounded crown. Yellow buckeyes are the largest native buckeye tree in North America.
Due to their large size, yellow buckeyes perform best in large landscapes as ornamental shade trees. Yellow buckeye is native to the United States and grows best in USDA zones 4 to 8.
Cornelian Cherry (Cornus mas)
Cornelian cherry is a deciduous tree that produces clusters of small, yellow flowers in late winter and early spring in North Florida. The showy yellow flowers grace bare branches, providing a colorful display when few other trees are blooming. The tree's dark green, oval leaves appear in late spring, and bright red berries develop in the fall.
As a tough landscape tree, the cornelian cherry tree is cold-hardy in USDA zones 5 to 8. The low-maintenance yellow-flowering tree performs well as a hedge, screen, specimen plant, or lawn tree. It grows 15 to 25 ft. (4.5 – 7.5 m) tall and up to 20 ft. (6 m) wide.
Related articles: