Stickers in Grass: How to Get Rid of Lawn Burweed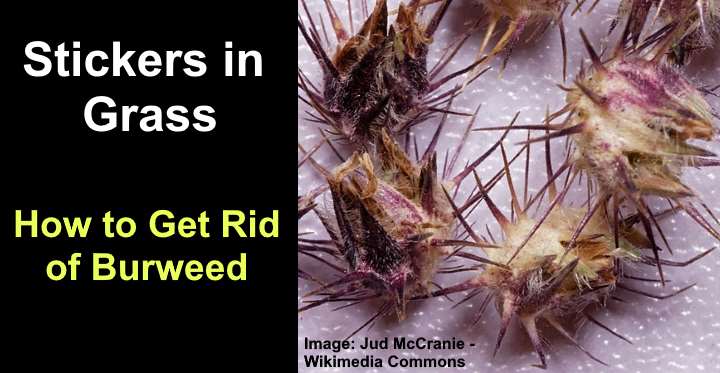 Stickers in grass are a type of annual weeds that can be a major nuisance in your lawn. Also called burweed, the pesky lawn weed with its sharp-needled seeds and clumps of sticky spines can cause pain if you step on them. The problem with getting rid of stickers in grass is that they germinate in fall and winter and lay dormant until spring. Then, when temperatures rise, the weedy flowering plant causes spiky patches to appear in your lawn.
In many cases, removing stickers from grass by hand is the most effective natural method of weed removal. However, you could try natural ways of killing burweed by using vinegar or baking soda. Like most annoying lawn weeds, good lawn care and turfgrass health are essential for preventing invasive weedy plants from taking over your lawn.
Do you have an infestation of prickly burweed in your grass? If so, don't worry. With some persistence and preventative measures, there are several ways to get rid of pesky weeds like stickers in the yard.
The article is a guide to identifying stickers in the grass. You will also learn how to get rid of the annoying lawn weed. In addition, you will get handy tips on how to prevent burweed from returning to your yard
What Are Stickers in Grass?
Grass stickers are annual weeds that produce seed pods covered in sharp burs. Also called sandburs, in cooler climates, stickers die back in the winter and return from seed in spring. However, in warmer regions, the jagged grassy weed grows as perennial and overwinters in lawns and flowerbeds.
Sticker weed also goes by several other names. Common names for the invasive weed include burweed, field sandbur, spurweed, Onehunga weed, grass burrs, grass stickers, sticker burrs, and puncture vine.
Burweed stickers grow rapidly in lawns and tend to invade worn, stressed, or bare patches of turfgrass. The noxious weed can grow 2" (5 cm) tall and up to 6" (15 cm) wide. Thanks to its numerous seeds contained in spiky pods, grass stickers can quickly take over a lawn.
One of the first signs of stickers in grass is the yellow flowers that appear in early spring. If you hope to control grass stickers, you must remove the broadleaf weeds before they go to seed. Otherwise, your lawn will be covered in spiky seed pods and thousands of little sticky weeds.
If left to their own devices, grass stickers can create dense infestations of painful lawn burs. Also, the spreading grass weeds have rapid growth and start competing for sunlight and soil moisture, severely impacting lawn health and appearance.
How to Get Rid of Stickers in the Yard
Hand-pulling grass stickers and raking the spreading weeds are the best ways to get rid of the spiky weeds. The fastest way to eliminate grass stickers is to burn the pesky patches with a propane hand torch. However, you can also try applying vinegar or baking soda as a natural control method.
Types of Stickers in The Lawn – Identification Guide
Sticker weed is a collective term for various types of weeds with spiky seed pods that affect lawns. The cool season weeds are typically found in common types of turfgrass like Bermuda and St. Augustine. However, the nasty spiked burs can affect any type of patchy lawn or thin turfgrass.
Here are some identification descriptions of various types of grass stickers:
Fiddleneck Stickers (Amsinckia sp.)
Species of annual yellow flowering weeds with sharp hairs that cause skin irritation. The flowers curl over at the top like a fiddle. The noxious seeds are poisonous to animals.
Burweed (Soliva sessilis)
Annual weed known as lawn burrweed, lawnweed and common soliva. Also called bindi weed, burweed is recognized by its parsley-like leaves, spine-tipped tiny burs, and small flowers.
Common Sandbur Stickers (Cenchrus pauciflorus)
Also known as coastal sandbur, or sticker weed, common sandbur sticker weeds produce a collection of spiky seed pods with sharp pins and fuzzy hair covering the outer casing. The sharply-pointed seeds grow at the ends of thick, flattened stems. This weed tends to infest pastures and vegetable patches rather than lawns in residential yards.
Spiny burr (Cenchrus longispinus)
Also called gentle Annie, this native weed produces several spiky round seed pods at the ends of small stems. Like most types of grass stickers, this noxious weed thrives when there is little competition for sunlight—for example, in lawns with poor health or extremely short grass.
Burr medic (Medicago polymorpha)
Also known as California burclover, toothed bur clover and toothed medick, this is an annual lawn weed with small yellow flowers, small prickly seeds, and clover-like leaves.
Bur Buttercup (Ceratocephala testiculata)
Also known as curveseed butterwort, this is a small weed with pale yellow flowers and spiny poisonous burs that is considered invasive in some areas.
How To Get Rid Of Stickers
If you've noticed stickers in your yard or lawn grass, there are some easy steps you can take to get rid of the irritating spiky balls. The most effective option is to pull them out of the ground by hand or use a rake to remove the spreading weeds. This method works best if done before they go to seed and spread even more.
Let's look in more detail at how to eradicate grass stickers from residential lawns.
Remove Stickers from Grass By Hand
Pull sticker grass weeds by hand when you notice them spreading in your lawn. Burweed grows prostrate across lawns and is recognized by its dark-spotted stems and small lobed green leaves. All you need to do to get rid of the sticker weed is pull the stems and roots out of the soil.
But remember—lawn burrs can be extremely sharp. Therefore, always wear protective gloves and footwear when hand-pulling spiny sticker plants.
To ensure grass thorns don't return to your lawn, dispose of sticker weeds in the trash. Avoid composting the pesky weeds, as you may end up spreading seeds when you apply compost to your vegetable patch, ornamentals, or lawn.
It's vital to note that to control the growth of burweed stickers, you must remove the pesky weed as soon as it flowers. By May, the annoying weed is ready to start seeding. If this happens, you will likely have a mat of yellow flowers covering your lawn the following spring.
The good news is that grass sticker plants are relatively easy to remove by hand because of their shallow roots.
Rake Your Lawn to Remove Grass Stickers Naturally
Use a garden rake to remove the winter annual sticker weeds from lawns. The best type of rake for grass sticker removal is one with densely-spaced teeth to collect as many spiny stickers as possible. Just be sure to collect all the burs in a brown paper yard waste bag and dispose of them in the garbage.
Here is how to rake a lawn to remove winter weeds before this flower and germinate:
Start at one corner of your yard and rake in a straight line.
Next, move a step away, and rake another line.
Continue raking your lawn systematically until you have raked the entire grass and removed all traces of burweed and grass stickers from your yard.
Sprinkle Baking Soda to Kill Sticker Weed
You can try using baking soda to kill grass stickers as part of an effective weed control program. It is said that baking soda eradicates spine-tipped burs and their roots by causing the roots to dehydrate, wither, and die. However, you should use baking soda sparingly for weed control as it can affect lawn grass and other plants.
To use baking soda to eliminate patches of sticker weed, sprinkle it directly on the plants. Then water the ground to ensure moist soil. The idea is that baking soda causes sticker weeds roots to absorb the powder so they cannot absorb moisture effectively.
Spray Pre-Emergent Herbicide in Late Fall for Lawn Burweed Control
Applying a pre-emergence herbicide like corn gluten meal can help to eradicate sandburs in yards. Corn gluten meal is a natural weed control method because it helps prevent lawn weeds from germinating. In addition, it boosts lawn health by increasing nitrogen and organic matter in the soil.
To use a natural pre-emergent control for burweed and grass stickers, spread corn gluten meal over the entire lawn in early spring and late summer. After applying the herbicide, water the area to activate the corn gluten meal.
It's good to remember that using a pre-emergence herbicide for the control of lawn burweed should be incorporated into an organic lawn care program. This includes applying lawn fertilizer, mowing to the correct height, and removing broadleaf weeds by hand.
Spray Vinegar on Stickers Before They Seed
You can use a homemade vinegar spray directly on a patch of stickers to control lawn burweed infestation. White vinegar works like a broadleaf weed killer because its high acidic content destroys roots. For this method to be effective, you should only use vinegar directly on the offending weeds and avoid nearby plants.
Fill a spray bottle with white vinegar to make a natural vinegar control method for sandburs and burweed. Set the nozzle to a steady stream (not a fine mist) and apply directly to burweed and stickers in the grass. Use the solution daily until the weedy plants die.
Mow Your Lawn with a Bag Attachment
Mowing your lawn with a bag attachment is one of the easiest ways to keep grass stickers at bay. Using the bag attachment, you can collect any burs that are chopped off during mowing, ensuring they don't spread around your grass and flower beds. However, you must dispose of lawn clippings in the appropriate yard waste disposal method for your area.
Mowing a lawn to eliminate grass stickers is effective for taller varieties of lawn burrweed and sandburs. However, this method is only effective for killing weeds growing taller than your grass.
How to Control Stickers in a Lawn
Maintaining a healthy lawn is one of the best ways to control stickers in the grass. Sticker weeds dislike dense lawns and thrive in thin turfgrass growing in sandy soil.
Fertilize Your Lawn Twice a Year
The best way to get control of lawn burweed is to fertilize your lawn in spring and fall. Organic lawn fertilizers keep your lawn healthy and resistant to invasive weeds, noxious plants, and plant-destroying garden pests. Additionally, applying the right nutrients promotes new leaf and root growth, thus choking out pesky lawn weeds.
Testing your soil for nutrient deficiencies before applying granular or liquid lawn fertilizer is a good idea. Unless the soil test kit reveals nutrient deficiencies, a lawn fertilizer with an NPK rating of 12-12-12 is a good all-purpose application to encourage thick, healthy growth in existing lawns.
Proper Mowing Height For Sticker Weed Control
Mowing your lawn at the proper height is important for keeping your yard sticker-free. This will help create thick, healthy turfgrass that can resist burweed infestations better than thin lawns. Additionally, regularly trimming grass to the correct height promotes good growth and doesn't give burweed a chance to take root.
What is the ideal grass height to help prevent an infestation of weeds? According to Michigan State University, the best grass height is between 3.25" and 4" (8 – 10 cm). Longer grass means that low-growing burweed plants do not get enough sunlight for them to germinate.
Good Lawn Care Stops Sticker Weeds
Sticker weeds can be difficult to control once they have taken hold of a lawn. Therefore, maintaining good overall lawn care practices is the best way to prevent burweed infestations. Good lawn care includes regular mowing, fertilizing, and deep watering to nourish the roots.
Here are the basic principles of keeping a lawn looking lush, healthy, and free of weeds:
Mowing: Mow the lawn regularly and keep the blades relatively long. Most gardeners suggest lawn height should be a minimum of 3.25" (8 cm).
Watering: Water your lawn enough to keep the soil moist because grass stickers thrive in dry soils. Deep watering is preferable to frequent shallow watering to ensure that roots receive adequate moisture.
Annual lawn care tasks: A healthy lawn requires extra care once or twice a year. Apply the right fertilizer for your lawn type, climate, and soil needs in spring and fall. Additionally, it's vital to aerate the lawn to improve drainage. Also, removing thatch along with broadleaf weeds allows moisture, sunlight, and oxygen to get to the roots.
Should You Use Weed Killers to Remove Grass Stickers from Lawns?
You may have to resort to using chemical weed killers in extreme cases of a severe lawn burweed infestation. First, however, you should purchase the right type of weed killer for sandbur, burweed, or grass sticker plants. Also, following the manufacturer's instructions for weed removal using herbicides, pesticides, and other chemicals is vital.
Related articles: