Types of Grasshoppers (With Pictures) – Identification Guide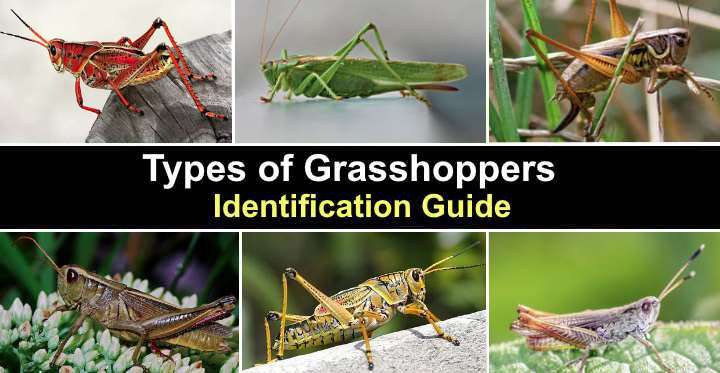 Grasshoppers are a type of insect that kids love and that gardeners dread. Most types of grasshoppers are green or brown ground-dwelling insects with characteristic large hind legs they use to leap. Some species of grasshoppers are flying insects, and swarms of locusts can do tremendous damage to crops. Grasshoppers can be tiny insects a few millimeters long or gigantic insects like the huge hedge grasshopper measuring over 3" (75 mm) long.
Identifying grasshoppers from other insects is relatively easy because of their unique appearance. However, some insects look like grasshoppers and have similar characteristics. The two most common grasshopper-like insects are crickets and katydids. But it's good to remember that locusts are grasshopper species, although not all grasshoppers are locusts.
This article contains handy tips on how to identify the most common types of grasshoppers. To help with identification, descriptions and pictures of grasshoppers will help you recognize these chirping, plant-eating insects.
What is a Grasshopper?
A grasshopper is a type of winged insect with six legs belonging to the suborder Caelifera. There are over 8,000 species of grasshoppers, and these prehistoric creatures are regarded as ancient chewing herbivorous insects. In many countries, grasshoppers are serious pests that destroy vegetation, crops, and vegetables.
Certain species of short-horned grasshopper become locusts during certain phases. Overcrowding causes these grasshoppers to change color, intensify feeding, and breed rapidly. This activity turns the solitary insects into swarms of destructive pests. These swarms of locusts can cause famines as millions of insects strip trees, plants, and crops of vegetation.
Related reading: How to get rid of grasshoppers from your yard.
How to Identify a Grasshopper
Grasshopper identification is by their body shape, color, and size. Like all insects, grasshoppers have six legs and a body consisting of three segments — head, thorax, and abdomen. In addition, grasshoppers have easily recognizable long hind legs and a pair of large eyes on a head attached vertically to its body.
Most grasshoppers are brown or green, sometimes black, insects. However, some can be colorful species, like the rainbow grasshopper. They also have large mouthparts for chewing plants. Typically, grasshoppers have short, stubby antennae, but some species — long-horned grasshoppers — have long antennae. Grasshoppers usually make chirping sounds, recognizable by other grasshopper tribes.
Type of Grasshoppers — Identification Guide With Pictures
There are thousands of grasshopper species. Some are very small, while others can be quite large. Grasshoppers have different color patterns and recognizable back legs in a 'V' shape when resting. Please read on to find out how to identify common species of grasshopper.
Common Green Grasshopper (Omocestus viridulus)
The common green grasshopper is a mid-sized green insect with some brown coloration on its abdomen. These winged insects have short antennae, brown or yellow eyes, and robust hind legs. An identifiable feature of this green grasshopper is its long tube-like organ at its rear.
The common green grasshopper measures 0.67" to 0.79" (17 – 20 mm) long. The green insect also has distinctive calling songs they use to attract mates. In addition, these grasshoppers also create ticking sounds.
Like many species of grasshoppers, the appearance of the males and females differ. The female grasshoppers are typically lime green. However, the males are mostly brown with mottled black and white patterns.
Grasshopper identification
The common green grasshopper is easily identifiable by its lime green coloration, brown eyes, and brownish stripes along its abdomen.
Eastern Lubber Grasshopper (Romalea microptera)
The eastern lubber grasshopper is one of the largest grasshoppers in North America. This gigantic insect is recognized for its highly colorful black, reddish-pink, yellow, and orange patterns. However, the coloration changes depending on various conditions and growth stages. The eastern lubber grasshopper grows around 3" (75 mm) long.
The eastern lubber grasshopper has various characteristics to help identify it. For example, it doesn't fly and rarely hops, but it's an excellent climber. In addition, some of the grasshoppers have colorful patterns, whereas others are black with orange stripes. The bright colors of the grasshopper are a warning signal to predators that it has a foul taste and smell.
The eastern lubber grasshopper is native to the southeastern United States. In Florida, the large grasshopper is mostly black with yellow or red stripes. But in other southern states it tends to have multi-colored patterns. The clumsy, non-flying grasshopper can decimate citrus trees, ornamental shrubs, and vegetable crops.
Grasshopper identification
The eastern lubber grasshopper is easy to identify due to the brightly colored yellow, red, orange, and black body, large eyes, and colorful legs.
Common Field Grasshopper (Chorthippus brunneus)
The common field grasshopper is a brown grasshopper with mottled brown, black, and creamy white patterns. Up close, the brown grasshoppers are easy to identify due to their hairy undersides. However, identifying the grasshopper species is tricky because of a wide variation in color and patterns.
The common field grasshopper typically grows 0.70" to 0.94" (18 – 24 mm). Apart from brown, the grasshopper can be green, purple, black, or white. It can also have stripes instead of mottled patterns.
An identifiable feature of the common field grasshopper is the loud sound it makes on warm sunny days. In addition, the mottled brown grasshopper has noticeably large hind legs in relation to its body.
Grasshopper identification
The common field grasshopper is recognized by its mottled brown patterns, large rear legs, and loud chirping noise during warm days.
Meadow Grasshopper (Pseudochorthippus parallelus)
The meadow grasshopper is a small green insect with black stripes along its back. These small grasshoppers have intricate 'V' patterns on their hind legs, long antennae, and relatively large eyes on the side of their heads. The female meadow grasshoppers tend to have mottled brown and black colors with green shading on their abdomens.
The meadow grasshopper grows 0.75" (20 mm) long. Although this is a brown or green winged insect, it doesn't fly. Instead, it leaps on vegetation or crawls up grass blades.
Although green is the most common color of this grasshopper species, there are also brown, pink, and purple-red variations. These variations in appearance tend to be genetic rather than climatic.
Grasshopper identification
Meadow grasshoppers are identified by their small size, green colors, and black stripes on their abdomens.
Spur-Throated Grasshoppers (Melanoplus)
Spur-throated grasshoppers are a large genus of grasshoppers native to North America. These brightly colored insects are identified by their colorful, intricately patterned bodies. The grasshoppers have slender white lines along their wings, black and green patterns on their head and thorax, and pale brown legs.
Here are identification features of some spur-throated grasshoppers:
Red-legged grasshopper (Melanoplus femurrubrum): Green and black colors with thin lines along its wings and reddish-brown legs.
Pine tree spur-throat grasshopper (Melanoplus punctulatus): Primarily brown colors with beige patches on its robust hind legs.
Packard's grasshopper (Melanoplus packardii): This is a sandy-colored grasshopper with tan stripes along its head and thorax.
Green-legged grasshopper (Melanoplus viridipes): This spectacular grasshopper has iridescent green colors on its thorax, brown and yellow banded wings, and large rounded metallic brown eyes.
Migratory grasshopper (Melanoplus sanguinipes): This big native grasshopper is dark brown or black with pale green patterns on its underside. Additionally, it has large hind legs with camouflage-like marks. The females are slightly larger than the males.
Locusts
Locusts are a group of short-horned grasshoppers with a swarming or gregarious phase. There is no distinction between species of locusts and grasshoppers. All locusts are grasshoppers — the only difference is that they become destructive pests when they swarm. Swarming usually happens when vegetation grows rapidly after long droughts.
It is estimated that there can be up to 390 million locusts per square mile. They can eat the same amount of food per day as 35,000 people.
Here are identification features of some grasshoppers that are classified as locusts:
Migratory locust (Locusta migratoria): This large locust is a brownish grasshopper with yellow patterns on its wings, abdomen, and head. Pictures of the brown grasshopper show it's got spiny hind legs, small eyes, and short antennae. This grasshopper grows 1.57" to 2.36" (40 – 60 mm) in length.
Garden locust (Acanthacris ruficornis): This type of bird grasshopper locust is a greenish insect with dark brown wings, spiny hind legs, and a greenish abdomen. It has a relatively small head in relation to its large body. It grows up to 3" (75 mm) long.
Desert locust (Schistocerca gregaria): This large yellowish-green grasshopper typically inhabits deserts. The gigantic locust can measure up to 3.14" (80 mm). It's identified by its pale-yellow hind legs, grayish forelegs, and short antennae.
It's good to remember that, although all locusts are grasshoppers, not all grasshoppers are locusts. For example, there are grasshopper species that don't fly or very rarely fly.
Western Horse Lubber Grasshopper (Taeniopoda eques)
The western horse lubber grasshopper is one of the biggest grasshoppers in North America, growing up to 2.75" (70 mm). The lubber grasshopper has distinctive fine vein-like yellow patterning on black wings. The colorful grasshopper has a dark brown thorax with yellow margins and a bright yellow and brown head.
Other identifying features of this large blackish grasshopper include yellow patterns on black legs, yellow antennae, and yellow marks along its black abdomen. Like many grasshopper species, there is variation in the species. Grasshoppers in southern states tend to be bright yellow, not black.
Although western lubber grasshoppers have large wings, they cannot fly. In fact, the insect has the unusual characteristic where its wings extend past the abdomen.
You can find this black grasshopper in desert bush and grasslands in Texas and Arizona.
Grasshopper identification
The western lubber grasshopper is identified as a huge black grasshopper with distinctive yellow markings across its body.
White-Lined Bird Grasshopper (Schistocerca albolineata)
The white-lined bird grasshopper is a species of short-horned yellow and black grasshopper. The brightly-colored insect has a yellow body with black bands and yellow legs. Additionally, the grasshopper has rusty-brown colored wings with mosaic patterning. These relatively big grasshoppers grow 2" (50 mm) long.
Grasshopper identification
The white-lined bird grasshopper is identified as a yellow insect with black bands on its abdomen and legs.
Rainbow Grasshopper (Dactylotum bicolor)
The rainbow grasshopper is one of the most colorful grasshoppers in North America. This easily identifiable grasshopper has distinctive yellow, orange, and bluish markings giving it a rainbow-type coloration. The rainbow grasshopper is unique because it has tiny wing pads but no discernable wings and it doesn't fly.
The female rainbow grasshopper grows 1.4" (35 mm) long, and the males are significantly smaller, only measuring 0.8" (20 mm). These brightly-colored grasshoppers use their coloring to ward off predators.
You will often find the rainbow grasshopper in the Great Plains of North America. The plant-eating insects are common in prairies, grasslands, and vegetated areas.
Grasshopper identification
The rainbow grasshopper is easy to identify due to its orange and yellow stripes on its body. The unusual grasshopper lacks wings, and it has colorful hind legs and bluish forelegs and antennae.
Silent Slant-Faced Grasshopper (Acridinae)
Silent slant-faced grasshoppers comprise a large subfamily of insects with characteristic slanted faces. As their name suggests, this group of grasshoppers lacks the pegs on their hind legs that make clicking sounds. Visually, silent slant-faced grasshoppers look more like stick insects than typical grasshoppers.
The female slant-faced grasshopper measures 1.41" to 2.08" (36 – 53 mm), and the male measures 1" to 1.50" (25 – 38 mm).
Grasshopper identification
Identifying silent slant-faced grasshoppers is straightforward because their appearance is so unique. For example, their forewings have angled tips rather than characteristic rounded or pointed tips. Also, their heads are not at a vertical angle seen in other species of grasshoppers.
Band-Winged Grasshoppers (Oedipodinae)
Band-winged grasshoppers are a large subfamily of long-horned grasshoppers called Oedipodinae. There are hundreds of types of band-winged grasshoppers, but they mostly have colorful hindwings with red or yellow patterns with black edges. Some species have black hindwings with lighter-colored margins. Band-winged grasshoppers typically measure 1.88" (48 mm) long.
Here are identification features of some band-winged grasshoppers:
Bryodemella tuberculate: A relatively large greenish grasshopper with distinct creamy mottled patterns on its wings and legs.
Arphia xanthoptera: This dark brown to black insect has creamy-white speckles on its hind wings.
Chortophaga viridifasciata: This is a bright green band-winged grasshopper with gray-black hind wings, grayish forelegs, and reddish-brown antennae.
Pygmy Grasshoppers (Tetrigidae)
Pygmy grasshoppers are some of the smallest grasshoppers and comprise several subfamilies. General identification features of pygmy grasshoppers are scaly forewings and a long pronotum that covers part of their abdomens. Typically, pygmy grasshoppers measure less than 0.78" (20 mm) long.
Related articles: