18 Native Texas Trees (With Pictures) – Identification Guide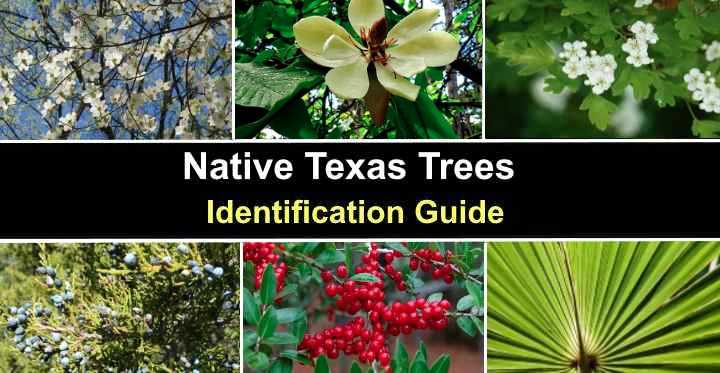 Trees native to Texas are well-suited to growing in hot, dry, and sometimes humid conditions in the Lone Star State. Native Texas trees include deciduous trees, flowering ornamental trees, and tall evergreen trees—ideal for shade throughout the year. Many trees native to the south tolerate extended drought periods and thrive in poor soils. Additionally, some native trees must withstand the freezing winter temperatures of the Texas Panhandle.
Native Texas trees are the easiest to grow in the state because they require little watering and maintenance. Additionally, the trees are less likely to become invasive and compete for nutrients and natural resources. This is unlike non-native trees that tend to crowd out native species of shrubs, plants, and other trees and can cause widespread plant diseases.
How to Choose Native Trees to Grow in Texas?
There are several considerations when choosing native trees for a Texan landscape. First, consider the tree's growing zone. Then check the tree's sun exposure levels, growth rate, spread, and mature height. Lastly, consider how much maintenance the tree needs if you don't want to spend time pruning and clearing up leaves in the fall.
Texas is divided into four USDA growing zones—zone 6 in the far north, zones 7 and 8 in Central Texas, and zone 9 in the south along the Gulf of Mexico and the Mexican border. Therefore, when planting native trees in Texas, find your growing zone to buy the appropriate type of trees.
Native Texas Trees
Native Texas trees provide a plethora of benefits for their surrounding environment. They provide shade during hot summer days and are sources of food and shelter for wildlife in native ecosystems. Please read on to learn about trees that are indigenous to Texas.
Texas Ash (Fraxinus texensis)
The Texas ash is a fast-growing native tree with an oval crown consisting of dark green pinnate leaves. Identifying features of the Texas ash include its gray-brown bark with furrowed, flattened ridges, pinnate leaves with five to seven oval leaflets, and small clusters of purple flowers.
The Texas ash is native to Central Texas and the Edwards Plateau. This medium-sized deciduous tree grows 30 to 45 ft. (9 – 14 m) tall and 25 to 30 ft. (7.6 – 9 m) wide. As one of the fastest-growing trees in Texas, it has an impressive annual growth rate of 2.5 ft. (0.7 m).
In the landscape, Texas ash trees are ideal as shade trees growing where the soil has poor drainage. In the fall, its foliage turns an unimpressive brown color.
River Birch (Betula nigra)
The river birch is a medium-sized tree native to Eastern Texas. This species of birch has triangular shaped leaves with toothed margins, drooping clusters of greenish flowers, and peeling reddish-brown bark. The ovate leaves with their wedge-shaped base measure 2" to 3.5" (5 – 9 cm) long. After flowering, cylindrical seed cones appear.
As its name suggests, river birch trees thrive in wet areas on the edges of forest swamps, lakes, ponds, or along stream banks. The attractive deciduous tree with its drooping branches grows 40 to 70 ft. (12 – 21 m) tall and up to 60 ft. (18 m) wide. This species of birch is extremely heat-tolerant and grows throughout the Lone Star State.
Carolina Buckthorn (Frangula caroliniana)
The Carolina buckthorn is a small understory shrub-like tree native to Texas. The attractive ornamental features of this buckthorn variety are its shiny green, ovate leaves, clusters of small, white summer flowers, and red and purple berries that mature in summer. Additionally, the bark is gray to brown and develops shallow furrows.
The Carolina buckthorn grows 12 to 20 ft. (3.6 – 6 m) tall, making it an ideal shade tree for compact gardens. The landscaping multi-stemmed tree thrives in USDA zones 5 to 9. You can grow the tree as a specimen plant or use it as a natural screen or hedge.
Texas Red Oak (Quercus buckleyi)
The Texas red oak is a native species of oak tree commonly found in Central Texas. Like all species of red oak, this southern variety has deeply lobed leaves with bristle tips. This glossy green foliage forms a rounded, oval crown. Additionally, this oak produces acorns—reddish-brown egg-shaped nuts in small warty caps.
Texas oak trees are medium-sized deciduous trees that grow 30 to 50 ft. (9 – 15 m) tall and up to 40 ft. (12 m) wide. Thriving in USDA zones 5 to 9, they are a common appearance in southern, and central Texas. Due to their spreading, oval crown, and dense foliage, Texas red oaks are excellent shade trees.
The outstanding landscaping feature of the Texas red oak is its spectacular red fall colors when the foliage turns shades of vibrant crimson reds.
Related reading: Species of acorn trees.
Nuttall's Oak (Quercus texana)
Nuttall's oak is a native Texas oak tree common in wetlands in Southeast Texas. The elegant deciduous tree is identified by its slender leaves with bristle-tipped lobes, dark brown, oblong acorns, and gray bark that develops into scaly plates. Like all oaks, this species has dangling finger-like clusters of inconspicuous flowers.
The Nuttall's oak thrives in USDA zones 6 to 9, where it grows 50 to 80 ft. (15 – 24 m) tall and 40 to 50 ft. (12 – 15 m) wide. Ornamental features of this red oak species are its attractive leaves with five to seven pointed tips, large brown and black striped acorns, and striking red colors in the fall.
Texas Persimmon (Diospyros texana)
Texas persimmon is a small multi-trunked landscaping tree with an attractive vase shape, thick, leathery leaves, and sweet, edible fruits. Native to dry soils in Central and Southern Texas, the persimmon tree is identified by its olive-brown exfoliating bark, small white five-petalled flowers, and round fruits measuring 1" (2.5 cm) across.
Texas persimmon is a semi-evergreen ornamental tree growing 15 to 20 ft. (4.5 – 6 m) tall and wide. It is tolerant of drought and heat and thrives in sun and partial shade. The compact growth of this native Texas tree makes it perfect for small backyards to provide shade and shelter.
Native Flowering Texas Trees
Native flowering Texas trees are an important part of the local ecosystem in the Lone Star State. Apart from providing shade, food, and shelter for various wildlife species, they fill front and backyards with color, floral scents, and beauty.
Desert Willow (Chilopsis linearis)
Native to Western Texas, the desert willow is a small deciduous tree bearing pink funnel-shaped flowers and willow-like leaves. This desert tree is characterized by its spreading, vase-shaped crown, showy pink flower clusters, contorted branches, and peeling bark. These ornamental features give the tree four-season aesthetic appeal.
Desert willow is a small ornamental tree suitable for backyard planting. It's native to arid climates, and the tree thrives in desert-like conditions. This native tree grows 15 to 30 ft. (4 – 6 m) tall and 10 to 20 ft. (3 – 6 m) wide. Thanks to its attractive tubular pink and purple flowers, it adds color and beauty to a Texas landscape.
Flowering Dogwood (Cornus Florida)
Flowering dogwood is a spectacular small flowering landscape tree native to Eastern Texas. The attractive ornamental feature of dogwood trees is the masses of small pea-like white flowers covering bare branches in spring. In addition, the flowering Texas tree has heart-shaped leaves, charcoal bark, and clusters of red berry-like drupes.
Flowering dogwood thrives through the Lone Star State—from northern Texas and Amarillo to Galveston Bay on the Gulf Coast. Small ornamental dogwoods grow 15 to 30 ft. (4 – 9 m) tall and wide and have an attractive vase shape. Additionally, their zigzagging branches give the trees decorative value in winter.
Eve's Necklace (Sophora affinis)
Also called Texas sophora, Eve's necklace is a small to medium ornamental tree characterized by drooping clusters of white to pink flowers. The spring flowers appear among airy, green foliage consisting of compound pinnate leaves with 13 to 19 oval leaflets. After flowering, black seed pods appear like a string of black beads 2" to 4" (5 – 10 cm).
This native Texas decorative tree thrives in Central and Southern Texas in USDA zones 7 to 9. The attractive tree grows 15 – 35 ft. (4.5 – 10.6 m) tall and 10 – 20 ft. (3 – 6 m) wide. Its drought, heat, and humidity tolerance makes it an ideal flowering tree for landscaping a Texas backyard or lawn. You can also grow it as an accent shrub or tree to attract pollinators.
Texas Mountain Laurel (Sophora secundiflora)
Native to Central, West, and South Texas, the Texas mountain laurel is a medium-sized tree with shrub-like growth. The ornamental features of the mountain laurel are its clusters of fragrant purple pea-like flowers, leathery, glossy green leaves, and long fuzzy gray seed pods that persist through winter.
Despite its name, Texas mountain laurel isn't related to true mountain laurel (Kalmia latifolia). It thrives in full sun, and the multi-stemmed tree or large shrub grows up to 20 ft. (6 m) tall and has a rounded crown. Plant the drought-tolerant shrub-like tree in full sun to partial shade.
Texas Hawthorn (Crataegus texana)
Texas hawthorn is a species of white-flowering ornamental tree that thrives in the shade and poorly-drained soils. This tree, native to Texas, has several ornamental features for southern gardens. Apart from its masses of five-petalled, fragrant white flowers, it has bright red berries and double-toothed lanceolate leaves.
Texas hawthorn trees thrive in the coastal plains of South and Central Texas. Performing best in full sun and damp soils, the tree grows 20 to 25 ft. (6 – 7.5 m) tall and wide. Its shrub-like growth and thorny branches mean you can grow Texas hawthorn as a security fence, foundation planting, or a specimen tree.
Southern Magnolia (Magnolia grandiflora)
The southern magnolia is a white-flowering tree native to Texas. The eye-catching evergreen is famed for its glossy, dark green foliage and fragrant ivory cup-shaped blossoms 6" to 8" (15 – 20 cm) across. The large tree provides welcome shade in hot, arid landscapes thanks to its pyramidal crown and dense foliage.
The southern magnolia is native to the southeastern United States and East Texas. However, it will thrive in large open landscapes in USDA zones 7 through 10. Southern magnolia trees grow 60 to 80 ft. (18 – 24 m) tall and up to 50 ft. (15 m) wide. The evergreen leaves provide year-long shade when grown as a specimen plant.
Related reading: Flowering trees for a Florida landscape.
Native Texas Evergreen Trees
Native Texas evergreen trees are valuable additions to southern landscapes. The attractive trees bring beauty to any outdoor area throughout the year, regardless if you experience cold winters in the Panhandle or scorching summers along the Gulf Coast.
Anacua (Ehretia anacua)
Anacua is a medium-sized ornamental tree native to Southern Texas south of San Antonio and Houston. The flowering evergreen tree features clusters of small white, fragrant spring flowers, orange-red berry-like drupes, and dark green, leathery foliage. The multi-stemmed tree has rough, thick brownish bark that becomes deeply furrowed with age.
Also called the sandpaper tree or knockaway, the sun and heat-loving tree grows 20 to 40 ft. (6 – 14 m) tall. When in bloom in spring, the abundant white flowers make the large tree appear covered in snow. Its medium to large size and spreading canopy make the native Texas Anacua an ideal shade tree.
Texas Madrone (Arbutus texana)
Texas madrone is a native evergreen tree that adds elegance and beauty to a Texan landscape. Ornamental features of the Texas madrone are its dense, dark, leathery evergreen foliage, brilliant white, bell-shaped flowers, and eye-catching red, pink, and brown bark. In the fall, edible red berry-like fruits appear, adding to the ornamental tree's charm.
Native to Central Texas, the Texas madrone is a small tree with crooked, twisted, multiple trunks. The decorative landscaping tree grows 25 to 40 ft. (7.5 – 12 m) tall and up to 25 ft. (7.5 m) wide. You can plant the tree in a native landscape as an informal flowering hedge, specimen plant, or lawn tree. You can also grow in a planter in a container garden or patio.
Eastern Red Cedar (Juniperus virginiana)
The eastern red cedar is a native coniferous tree in Texas with a pyramidal habit and sprays of feathery, aromatic foliage. The easy-to-grow landscaping tree features gray-green foliage, reddish-brown bark, and small flowers followed by waxy-blue berry-like cones. The cold-hardy, heat-tolerant native tree thrives in full sun.
The eastern red cedar evergreen tree is ideal for landscaping in residential front or backyards to provide privacy or a noise barrier. In addition, it's resistant to drought conditions and withstands salty air, making it ideal for planting in coastal gardens. Hardy in zones 2 through 10, there is nowhere in Texas where this conifer cannot grow.
Yaupon Holly (Ilex vomitoria)
The Yaupon holly is a Texas native shrub or small evergreen tree that produces small white flowers, red berries, and glossy-green foliage. This densely branching tree has four-season landscaping appeal for a central or southern Texan landscape. You get year-long leathery leaves with toothed margins, vibrant red berries in the fall, and small greenish-white spring flowers.
The bushy evergreen Yaupon holly requires minimal pruning or maintenance. The shrub-like tree grows 10 to 20 ft. (3 – 6 m) tall and up to 12 ft. (3.6 m) wide. The tree grows well as a specimen plant or can be trimmed to be an evergreen hedge for year-long privacy.
Anacahuita /Texas Wild Olive (Cordia boissieri)
Also called the Texas wild olive, the Anacahuita is a native evergreen tree that thrives in Southern Texas. This attractive ornamental bushy tree has a symmetrical crown, large ovate leaves, and masses of pure white, funnel-shaped flowers that bloom throughout the year. The wild olive tree also produces yellowish-green, olive-like inedible fruits.
The Texas wild olive tree grows 16 to 23 ft. (5 – 7 m) tall and up to 16 ft. (5 m) wide. Its native range extends from the Rio Grande Valley, where it thrives in arid, hot landscapes and withstands windy conditions and coastal sprays. Use it as an accent plant in a shrub border to enjoy its trumpet-shaped, white papery flowers
Texas Sabal Palm Tree (Sabal mexicana)
The Texas sabal palm tree is a hardy native Texas evergreen palm with large fan-shaped fronds creating a thick, rounded crown. The single-stemmed exotic tree has a cylindrical trunk covered in rings. The slow-growing palm grows up to 50 ft. (15 m) tall, and its crown of spiky foliage measures up to 25 ft. (7.6 m) across.
The Texas sabal palm is ideal for adding an exotic touch to your Texan landscape. Thriving in the southern areas of the state, the sabal palm survives high heat and humidity and over six hours of sunshine daily.
Related reading: Species of Texas palm trees.
Related articles: