Types of Brown Mushrooms (with Pictures): Identification Guide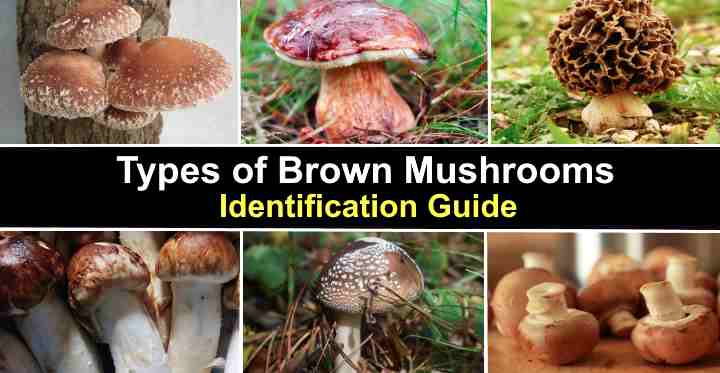 Brown mushrooms are common varieties of fungi appearing in lawns, yards, and woodlands. The spongy fungal growths can be difficult to spot in a garden because their brown cap and stems blend in with the soil and surroundings. The brown wild mushrooms can be identified by their cap shape, type of stem, and where they are growing in a landscape.
Brown mushrooms are some of the most common edible mushrooms that people forage for. Common brown mushrooms include morels, portobello mushrooms, porcini mushrooms, king oysters, and shiitakes.
Of course, properly identifying varieties of brown mushrooms is crucial, as many are highly poisonous. For example, false morels, deadly skullcap mushrooms, and some fungi in the genus Cortinarius are poisonous brown mushrooms, and you should never consume them.
This article is a basic guide for identifying common brown mushrooms in lawns, yards, and forests. However, the brief descriptions in this article are not sufficient for positively identifying edible mushrooms. Mushroom experts (mycologists) warn that "identifying wild mushrooms can be extremely difficult, and consuming them can be deadly."
Why Brown Mushrooms Grow in the Yard
Brown mushrooms appear in soil under shrubs and near trees when conditions are right. They thrive in soil rich in organic matter when temperatures are warm and humid. Therefore, mushrooms typically appear in yards in late summer and early fall. The brown fungi grow under decaying plant material and decomposing leaves.
Discovering brown mushrooms in your yard is a good sign of healthy soil. Fungi only fruit in organically rich substrate, and their presence adds nutrients by helping decompose organic matter like decaying wood, dead plants, and old leaves. Also, mushroom mycelium—the underground networks of fungal threads—helps aerate the soil and improve water retention.
Brown Mushrooms in the Lawn
Healthy lawns offer an ideal habitat for brown mushrooms to thrive because they provide the essential conditions. Lawns contain decomposing organic matter, and brown fungi will start to fruit when conditions are right. These continue to release nutrients into the ground, improving lawn health even more. Therefore, seeing brown mushrooms in your lawn shows good lawn health.
Related reading: How to get rid of lawn mushrooms.
How to Identify Brown Mushrooms
To identify species of brown mushrooms, you should examine their key features like cap shape, size, gills or pores, stem characteristics, and color. For example, some brown mushrooms have conical warty caps, whereas others have flattened or convex caps. Additionally, you may notice a skirt-like ring on the mushroom's stipe (stem).
Precise identification of brown mushrooms is vital because some edible mushrooms have poisonous look-alikes. For example, poisonous brown mushrooms in the genus Gyromitra look like edible morel mushrooms.
Types of Brown Mushrooms (with Pictures): Identification Guide
Let's look in detail at the most common types of brown mushrooms you are likely to discover on woodland walks, growing in your lawn, or under shrubs and decomposing leaves in your yard.
Mower's mushroom (Panaeolus foenisecii)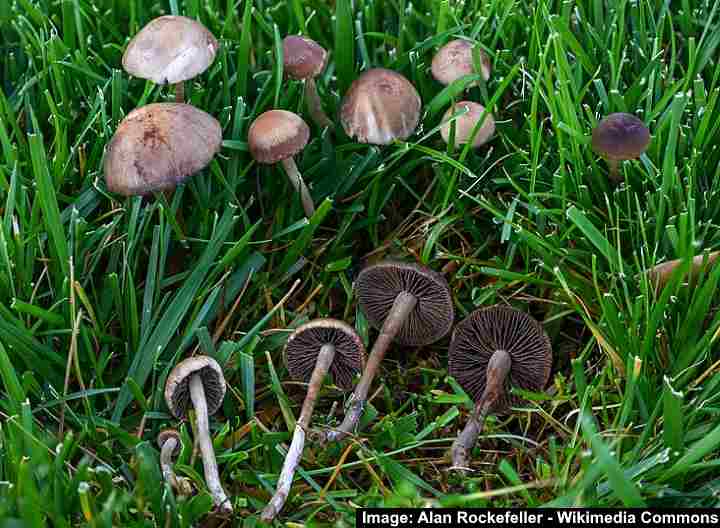 Mower's mushroom is a common inedible brown lawn mushroom. Identifying characteristics of the small mushroom are its convex cap that flattens out as it matures, small light brown gills, and a slender stipe. Brown mower's mushrooms grow 1.12" to 3.14" (3 – 8 cm) tall with a cap 0.4" to 1.12" (1 – 3 cm) across.
Also called the brown hay mushroom or haymaker, the small brown mushroom is the most common type you can find in lawns. Look-alikes of this brown lawn mushroom include fairy ring mushrooms (Marasmius oreades), Psathyrella corrugis, and the hallucinogenic brown mushroom—the banded mottlegill (Panaeolus cinctulus).
Shiitake Mushroom (Lentinula edodes)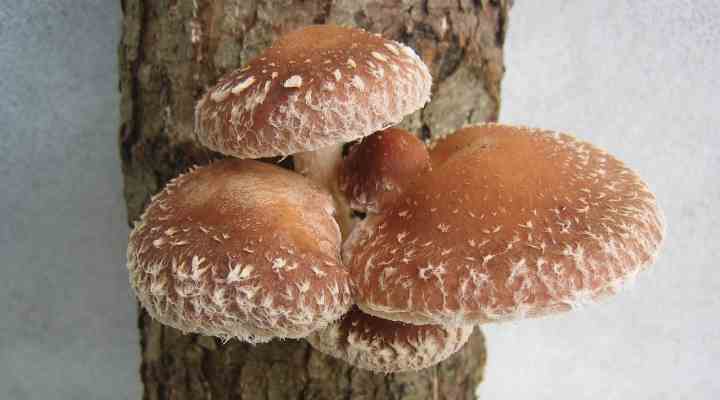 Shiitake mushrooms are popular edible brown mushrooms that grow on trees and are native to East Asia. These mushrooms are identified by their distinctive umbrella-shaped (convex) light brown to chestnut brown cap, white to light brown gills, and thick white fibrous stem. The tasty brown mushrooms grow in clusters.
Shiitake mushrooms grow on decaying hardwood trees and logs. They are also cultivated on sawdust for consumption and commercial use. The taste of the brown mushrooms is described as a savory, umami-rich, meaty flavor with a smoky, earthy aroma.
It's vital to note that shiitake mushrooms have a poisonous look-alike called the funeral bell or deadly skullcap (Galerina marginata).
Bay Bolete (Imleria badia)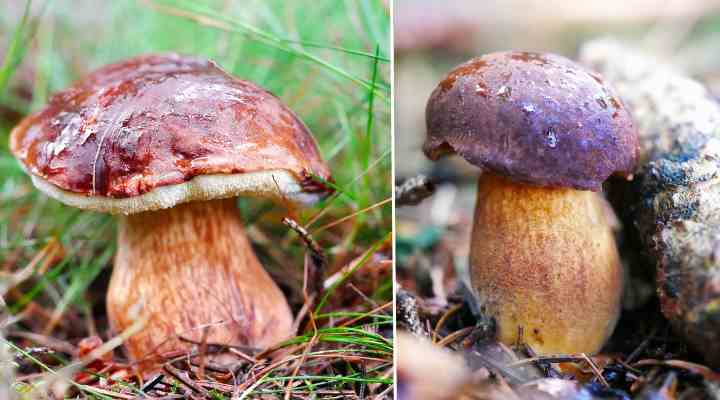 The bay bolete is a brown forest mushroom with a disk-like brown cap. The chestnut-brown fungi have a cylindrical light brown stipe and a deep brown spherical cap with yellowish pores instead of gills. The stipe grows 1.5" to 3.5" (4 – 9 cm) and the cap up to 6" (15 cm) in diameter.
Also called the brown cap bolete, the tasty reddish-brown mushroom is often found in mixed forests, particularly near oak, beech, or pine trees. The chestnut, dark-brown cap has whitish flesh inside. The greenish-yellow or olive pores stain dull blue when cut or bruised.
Jelly Ear Mushroom (Auricularia americana)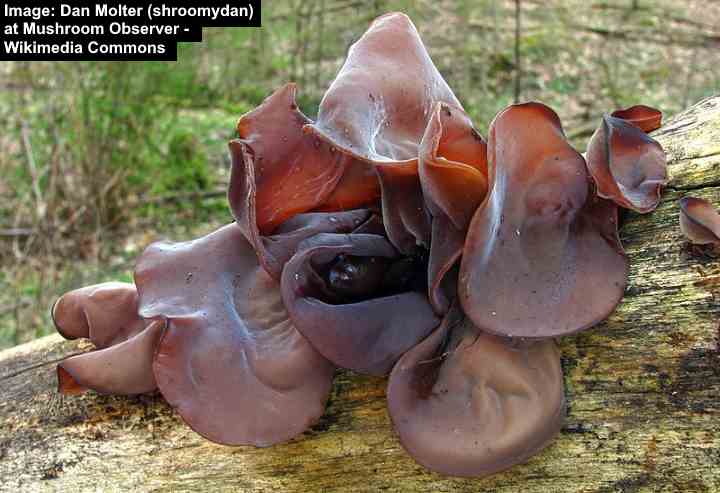 The jelly ear mushroom is a unique, gelatinous brown mushroom that looks like an ear growing on rotten wood. Identifying characteristics are its brown to reddish-brown color, rubbery flesh, and smooth undersides. The mushroom grows singularly or in clusters and can be up to 4" (10 cm) across.
Jelly ear mushrooms grow on decaying wood in coniferous forests. A related, pink-colored fungus, Auricularia angiospermarum, is common in broadleaf forests.
Hen-of-the-Woods or Maitake Mushroom (Grifola frondosa)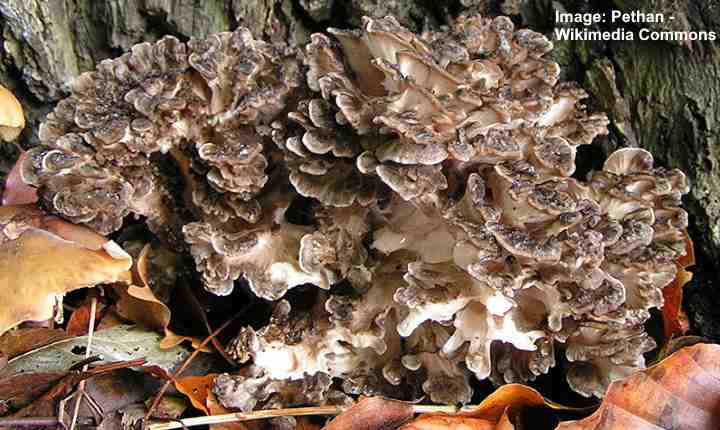 The hen-of-the-woods is a distinctive type of dark brown edible mushroom that grows in large clusters at the base of trees. The mushroom consists of grayish-brown spoon-shaped or curled caps at the end of milky-white stipes. The huge brown mushroom can grow up to 3 ft. (1 m) in size.
The hen-of-the-woods mushroom is identified by its large, fan-shaped clusters that resemble ruffled hen feathers, hence its name. Native to Japan, this brown forest fungus is called maitake, which means "dancing mushroom." This describes people's joy at finding the mushroom when foraging.
Morel Mushrooms (Morchella)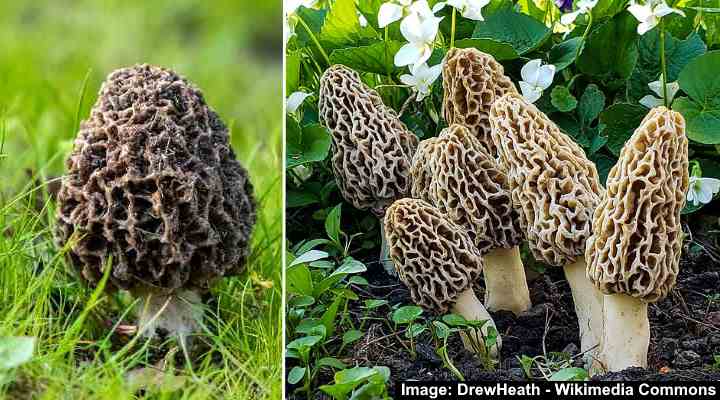 Morel mushrooms are easily recognizable brown yard mushrooms due to their distinctive honeycomb appearance. The brown mushrooms are identified by their unique, sponge-like conical, egg-shaped, or cylindrical cap and hollow white stem. The brown textured caps can measure 1" to 4.3" (2.5 – 11 cm) tall and the stems up to 4.7" (12 cm).
Morel mushrooms are typically dark brown to black. They grow in forests, woodlands, and grassy areas, often near trees such as ash, elm, and apple trees. The delicious brown mushrooms start fruiting in spring and continue through early summer.
The mushrooms are prized for their earthy, nutty flavor, which many enthusiasts find delicious. It's important to note that morel mushrooms have toxic look-alikes called false morels.
False Morels (Gyromitra)
False morels are a group of poisonous mahogany brown mushrooms with a strange-looking wrinkled cap resembling true morels. The unusual mushrooms have a distinctive brain-like reddish-brown cap on a white hollow stem. The irregularly shaped cap grows up to 4" (10 cm) tall and 6" (15 cm) wide.
The difference between true morels and false morels is the cap shape. True morels are gray, tan, or brown with a symmetrical, pitted appearance.
Despite their toxicity, false morels are a delicacy in some countries where they are specially prepared to remove toxins. However, they can be fatal when consumed raw.
Porcini mushrooms (Boletus edulis)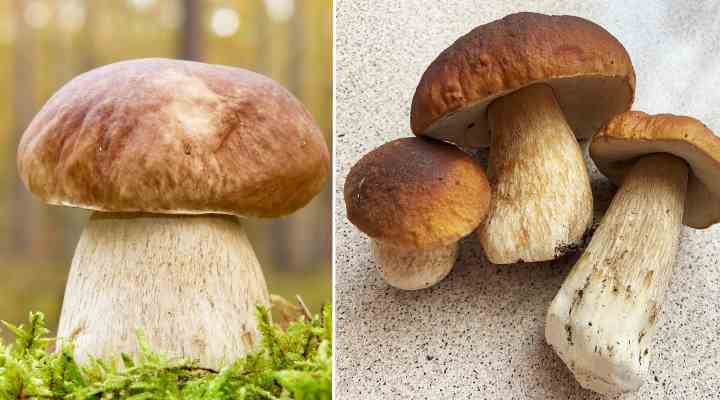 Porcini mushrooms are highly sought-after edible brown mushrooms. They have a distinct appearance with a large, meaty, thick stem, a brownish cap, and a spongy texture underneath the cap. The caps range from light to deep brown; the porous underside is yellow-green or olive-brown.
Porcini mushrooms have a stipe 3" to 10" (8 – 25 cm) tall and a sticky brown cap 3" to 12" (7 – 30 cm) in diameter. Slicing the tasty brown mushroom in half reveals meaty white flesh throughout the mushroom. Many people say that porcinis are the tastiest wild mushrooms for consumption.
It is important to note that porcini mushrooms have poisonous look-alikes. These include the false king bolete (Boletus huronensis) and the devil's bolete (Rubroboletus satanas).
Portobello mushrooms (Agaricus bisporus)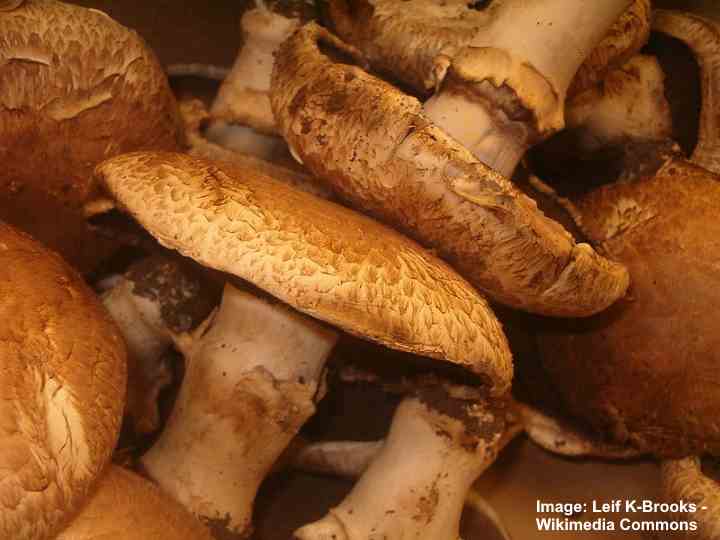 Portobello mushrooms are a type of large brown edible mushroom that is popular in cooking. Identifying features of these large mushrooms are their rounded brown cap with a creamy-white margin, mahogany brown or black gills, and a stumpy, thick white stem. The cap grows 6" (15 cm) in diameter and is smooth and slightly firm.
Portobello mushrooms, with their broad disk-like caps, are mature, common white button mushrooms. They have a mild, earthy aroma and a savory, umami-rich flavor. The mushrooms commonly fruit in grassy areas or compost-rich environments.
Crimini Mushrooms (Agaricus bisporus)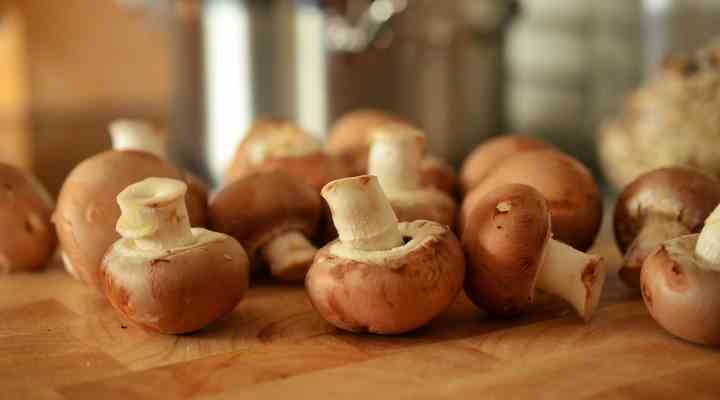 Crimini mushrooms are common button mushrooms with a light to chestnut brown color, firm texture, and a slightly earthy flavor. Also called baby bellas or browns, the mushrooms are the in-between mature stage of white button mushrooms and portobello mushrooms.
They are typically the same size as white button mushrooms. When crimini mushrooms have been left to grow for longer, they are called portobello mushrooms.
Matsutake Mushroom (Tricholoma matsutake)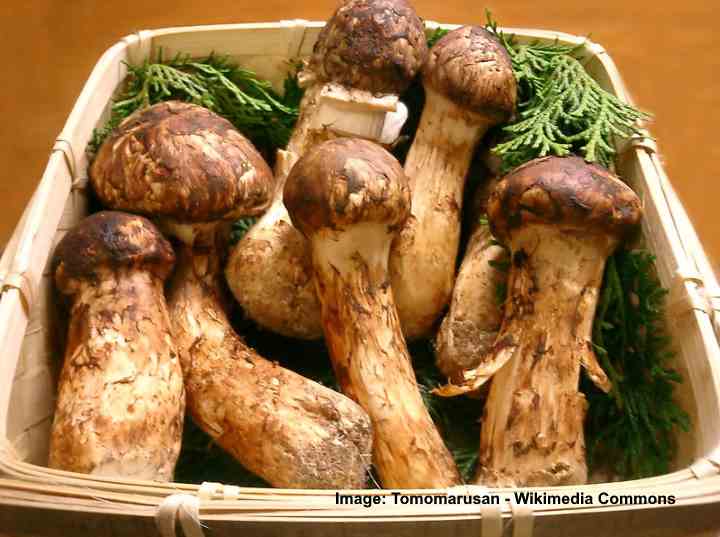 The matsutake mushroom is an exotic edible brown mushroom with a distinctive small, rounded cap and thick stem. The mushroom's characteristic appearance is from its bulging cap, only slightly wider than the stem, which can be 1.12" (3 cm) thick. The meaty stems grow 2" to 6" (5 – 15 cm) tall.
Matsutake mushrooms typically grow in coniferous forests, hidden under leaf litter. Due to their scarcity and unique flavor, matsutake mushrooms are highly sought after and are expensive.
Fairy Ring Mushroom (Marasmius oreades)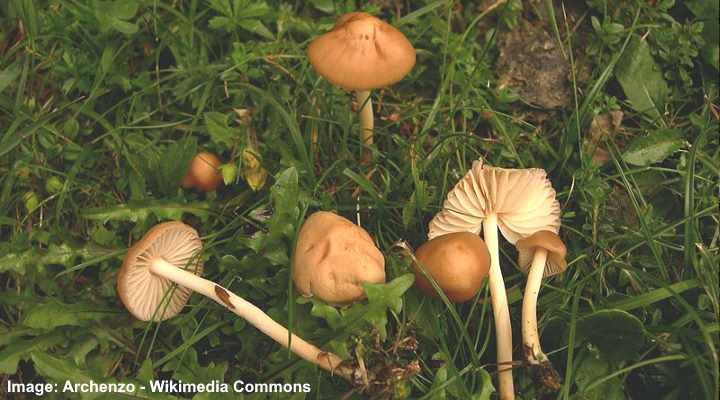 The fairy ring mushroom is a type of brown mushroom commonly seen in lawns throughout North America. Identifying features of the yellowish-brown mushroom are its bell-shaped to flat caps, pale tan gills, and slender, sometimes crooked stem. The brown lawn mushrooms typically grow in circular formations known as fairy rings.
Fairy ring mushroom caps grow 0.5" to 2" (1 – 2.5 cm) in diameter. A feature of the flattened caps is the distinctive bump in the center. The rings of small, slender brown mushrooms appear in lawns in summer and fall, typically after rainfall.
Chestnut Mushroom (Pholiota adiposa)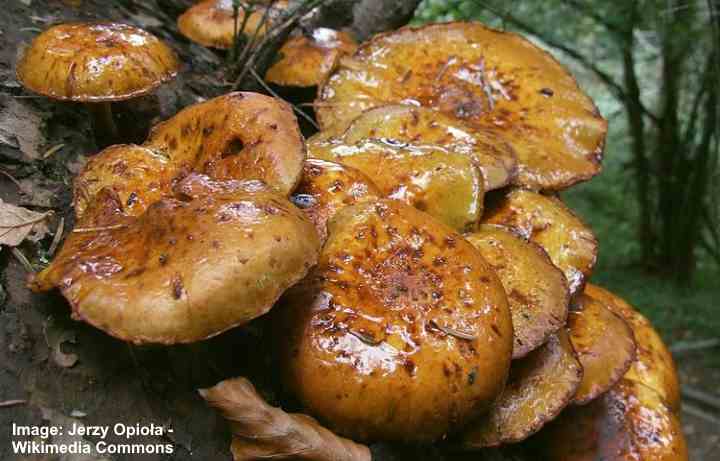 The chestnut mushroom is a type of orange-brown fungus that grows parasitically on beech trees. These mushrooms are identified by their slimy caps covered in scales, white stems, and brown to yellow gills. You often see the brown and white mushrooms growing in clusters on trees.
The chestnut mushroom shouldn't be confused with immature button mushrooms (Agaricus bisporus), also known as chestnut mushrooms. This Pholiota species has bell-shaped, oily, and scaly caps growing 2″ to 6″ (5 – 15 cm) wide, and thick white stems measuring 1.2″ to 3.5″ (3 – 9 cm) in height.
Beech Mushroom (Hypsizygus tessulatus)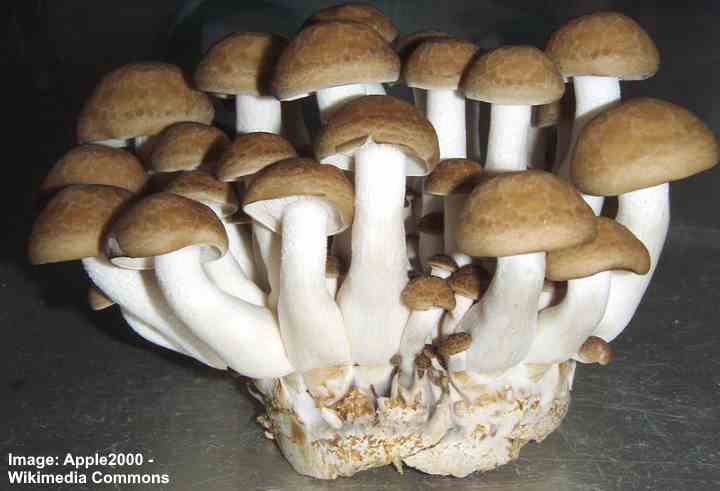 The beech mushroom is a type of edible, pale tan mushroom that grows in groups on beech trees. The buff-colored mushroom is identified by its small, round convex caps, thick white to pale tan stems, and whitish gills. The small mushrooms grow up to 3.1" (8 cm) tall, and the irregularly shaped caps are 1.5" to 3.1" (4 – 8 cm).
Beech mushrooms grow in clusters on decaying hardwood trees, particularly beech trees, hence their name. They are often found in forests and woodland areas throughout North America, especially in the fall. These mushrooms have a mild, slightly nutty flavor and a firm texture.
Liberty Cap (Psilocybe semilanceata)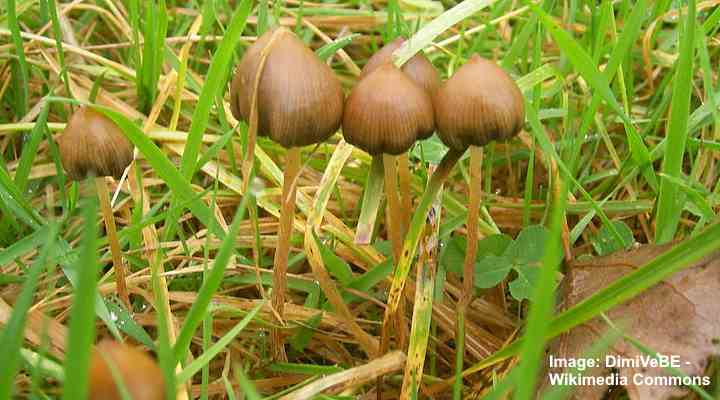 The liberty cap is a small, cone-shaped brown mushroom commonly found in lawns and meadows. The slender mushroom's identifying features are its conical or bell-shaped caps 1" (2.5 cm) in diameter, skinny pale brown stems, and cream-colored gills that turn purple to black.
Liberty cap mushrooms—sometimes referred to as magic mushrooms—are known for their psychedelic properties. They appear similar to other types of psilocybin mushrooms that also grow in grasslands, lawns, and pastures.
King Oyster Mushroom (Pleurotus eryngii)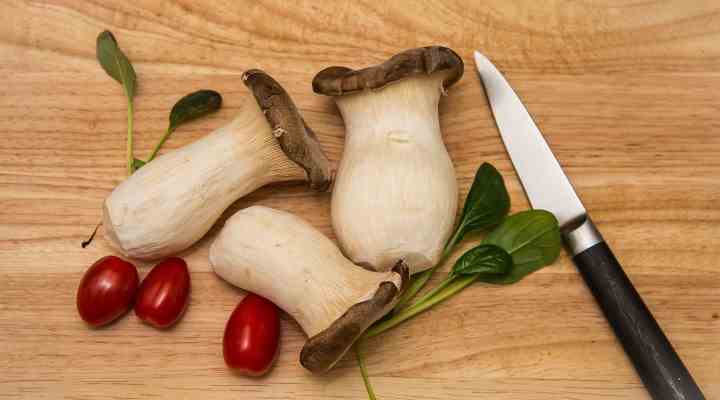 The king oyster mushroom is the largest species in the genus Pleurotus and is identified by its small tan to dark brown cap and thick, meaty white stem. Other features distinguishing this mushroom are a depression in the velvety gray-brown cap, inwardly curved cap margins, and a swollen stem base.
Also known as the king trumpet mushroom, French horn mushroom, or trumpet royale, the edible brown mushroom has a cylindrical stem of 2.4" to 4" (6 – 10 cm) tall and 0.78" to 2.4" (2 – 6 cm) thick. Its disk-like cap is 2" to 4.7" (5 – 12 cm) across.
King oyster mushrooms are known for their rich and savory flavor. They have a firm, chewy texture, making them a popular ingredient in many cuisines.
Candy Cap Mushrooms (Lactarius)
Candy cap mushrooms are a group of brown mushrooms with distinctive vase-shaped caps and visible pale brown gills. The small to medium-sized mushrooms have caps 0.40" to 2" (1 – 5 cm) in diameter and stems 1.2" to 2.7" (3 – 7 cm) tall. They range in color from dark reddish-brown to light brown.
A unique feature of candy cap mushrooms is their strong, sweet aroma. They have a distinct maple syrup smell, which intensifies when the mushrooms are dried. This aroma has led to their nickname as "the maple syrup mushroom." Some varieties have a distinctive curry aroma; therefore, they are also called curry milkcaps.
Mountain Moss Psilocybe (Deconica montana)
The mountain moss Psilocybe fungus is a little brown mushroom (LBM) with an umbrella-like cap and slender stem. The dark, chestnut brown mushroom is identified by its small size, typically growing 0.6" to 1.5" (1.5 – 4 cm). Its convex to flattened smooth cap is 0.6" (1.5 cm) in diameter.
This hallucinogenic mushroom is commonly found in grasslands and pine forests. Unlike other "psychedelic" mushrooms, it doesn't stain blue when handled.
Panther Cap (Amanita pantherina)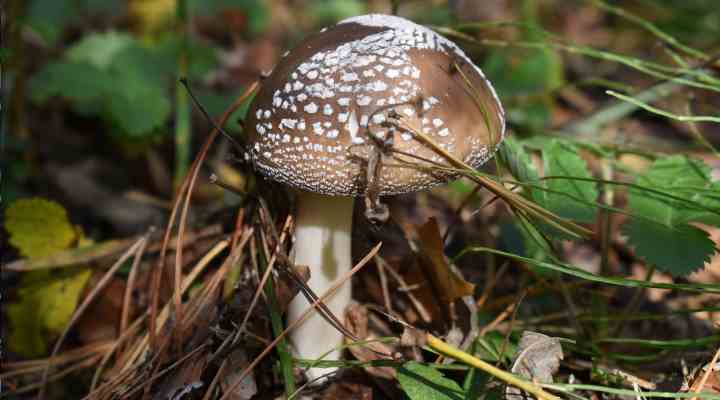 Also called the false blusher, the panther cap is a poisonous mushroom easily recognizable by its brown convex cap covered in creamy-white warts. The large, rounded cap can be hazel-brown to deep brown and sits atop a thick white stipe 2" to 6" (5 – 15 cm) tall.
Like many toxic Amanita mushrooms, it has a shaggy skirt ring on its stem. Its white-spotted brown disk-like to slightly rounded cap is 2" to 7" (5 – 18 cm) in diameter.
This poisonous mushroom contains various toxic compounds, including ibotenic acid and muscimol. These toxins can cause severe symptoms such as nausea, vomiting, hallucinations, and even organ failure in some cases.
Inocybe saliceticola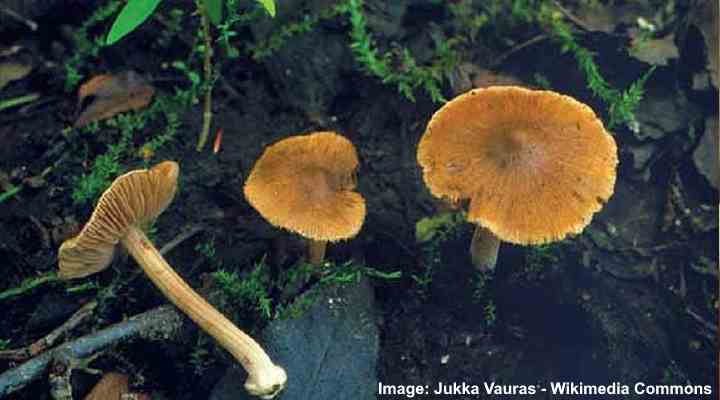 Inocybe saliceticola is a slender mushroom with golden brown caps and gills. Identifying features of the small woodland mushrooms are the conical caps that flatten as the fungus matures, slender stems, and narrowly spaced gills. This mushroom is characterized by its small size, with caps measuring 0.28" to 1.57" (0.7 – 4 cm).
The cap color of Inocybe saliceticola varies from pale yellow to brownish-yellow, and it often has a slightly wrinkled surface and wavy margins. The little brown mushrooms (LBM) typically grow near willow trees and sometimes birch trees. You will find it in grassy areas, meadows, or open woodlands.
Gypsy Mushroom (Cortinarius caperatus)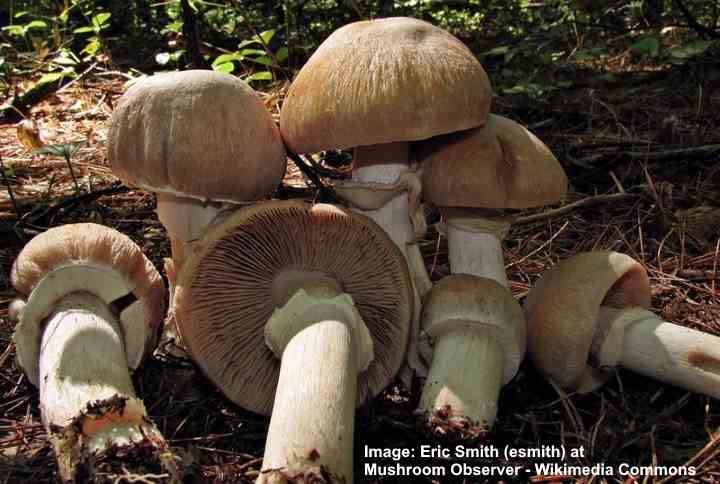 The gypsy mushroom is a wild fungus species with a buff-brown conical to flattened cap covered in whitish fibers. Identifying features of the gypsy mushroom are its wrinkled, sticky texture, yellowish gills that turn rusty, and a cylindrical stem with a pronounced ring or veil.
Gypsy mushroom caps are 2" to 4" (5 – 10 cm) in diameter and sit on top of stipes 1.57" to 2.7" (4 – 7 cm) tall. Its thick white stem has a distinctive swollen base.
Gypsy mushrooms are commonly found in late summer to early fall. They thrive in acidic, sandy soil, and you can find them in conifer and beech forests.
While some people class them as edible mushrooms, caution should be exercised as some species of Cortinarius can be toxic. Also, the poisonous, deadly fibrecap is a gypsy mushroom look-alike.
Dung Roundhead (Protostropharia semiglobata)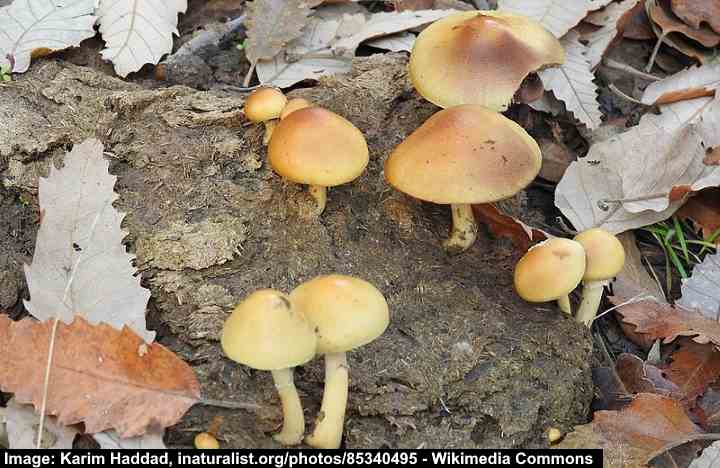 The dung roundhead is a type of pale-brown to sandy-colored mushroom identified by its slightly conical to rounded cap. The mushroom cap's surface is smooth and sticky with a dull pale-yellow to brown color. It has widely-spaced gills and a stem with a bulbous base. It commonly grows in lawns and grasslands containing manure.
The cap of the dung roundhead is cylindrical and measures 0.4" to 1.6" (1 – 4 cm) in diameter. The stem is 1.2" to 4.7" (3 – 12 cm) tall and is typically yellow in color with a fibrous texture.
Ringless Honey mushroom (Armillaria tabescens)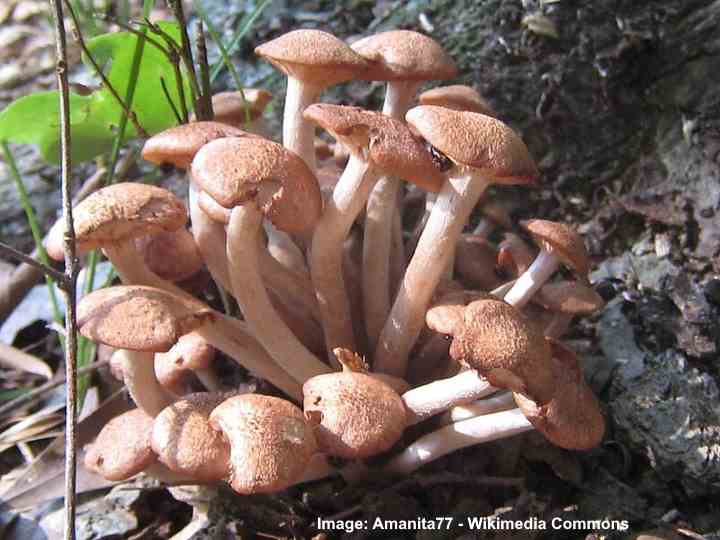 The ringless honey mushroom is a light brown mushroom with a convex cap growing in clusters on trees. Features to identify the mushroom include its honey-colored, smooth cap, tan to brownish gills, and a tapering slender stem with hints of white or pink spots.
Ringless honey mushrooms grow in clusters on decaying wood, such as tree stumps and logs. They are particularly abundant in forests and wooded areas. The golden-brown convex to indented caps measure 1.18" to 4" (3 – 10 cm) in diameter, and the stems grow 2" to 3.15" (5 – 8 cm) tall.
Deadly Skullcap Mushroom (Galerina marginata)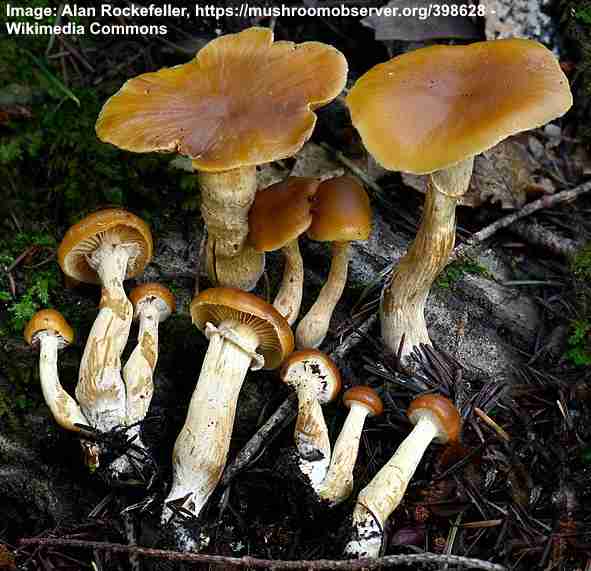 The deadly skullcap mushroom is a highly toxic fungus with a yellow-brown to brown cap that is convex but flattens to an irregularly shaped disk. The poisonous brown mushrooms have brownish gills, a membranous stem ring, and a pale white to light brown cylindrical stem.
The deadly skullcap mushroom typically grows in clusters on decaying wood, such as logs or stumps. Its cap measures 0.5" to 1.5" (1 – 4 cm) and has a stem 0.75" to 3.14" (2 – 8 cm) tall.
Deadly skullcap mushrooms look like several varieties of brown edible mushrooms. Two examples include the honey fungus mushroom (Armillaria mellea) and sheathed woodtuft (Kuehneromyces mutabilis). Other names for the toxic brown mushroom are funeral bell, autumn skullcap, or deadly galerina.
Related article: