Types of Bagels with Their Flavor and Picture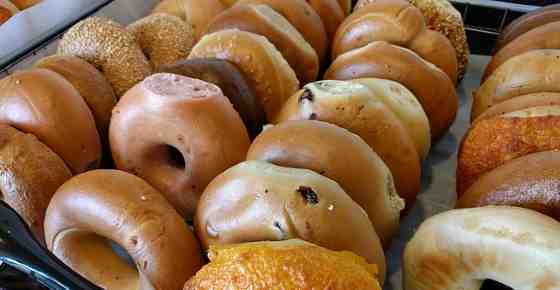 Bagels are popular baked bread rolls that come in a number of delicious flavors. There are so many varieties of bagels that there is one to suit everyone's taste. These tasty chewy doughy rings can be savory or sweet, soft or crunchy and are often topped with seeds. Even just a plain bagel can be scrumptious if you use classic bagel fillings such as cream cheese, smoked salmon, or ham.
It is thought that bagels originated among Jewish communities in Central and Eastern Europe in the 17th century. The name "bagel" (or, beigel) is probably from a Yiddish word that referred to a type of pastry with a sweet filling.
Bagels became a popular type of food in the 20th century in large cities in North America with a large Jewish population. For example, popular styles of bagels are the New York-style bagel and the Montreal-style bagel. These versatile ringed bread snacks can be toasted, eaten plain, warmed in an oven, eaten open, or closed like a sandwich.
It is difficult to list all the different types of bagels that are available. Bakers and delicatessens are always coming up with new bold and exotic flavors for their bagels. In this article, you will learn about some of the most popular kinds of bagels and their flavors.
What are Bagels?
It seems that bagels were invented by Ashkenazi Jews living in Poland. The traditional bread roll design helps the dense gooey dough to cook through. The hole in the middle of these baked products also allowed for easy transportation as a string could be threaded through them.
The simple plain bagel is a mixture of wheat flour, yeast, water, and salt. To create fancier bagels, barley malt, eggs, honey, seeds, butter, or sugar can also be used. This creates a sticky, gooey texture. The dough preparation for bagels is similar to bread.
The unique cooking process for bagels involves boiling the dough ring in water before baking it. This cooking style gives bagels their distinct chewy texture, delicious taste, and glossy appearance.
Bagel vs. Bread – What's the Difference?
Bagels are a type of baked bread product with a doughnut shape. The main difference between bagels and bread is the cooking process where the soft sticky dough is boiled before baking. This creates a dense bread roll that has a unique chewiness that bagels are famous for.
Another difference between bread and bagels is that bagel rolls are higher in calories. The average bagel contains around 260 calories whereas a slice of plain white bread may have just over 70 calories. When you add on toppings such as butter, cheese, or ham, the number of calories in a bagel could be similar to a small meal. (1, 2)
Of course, there are healthier bagel options such as choosing whole wheat bagels or pumpernickel bagels. Or, you could choose healthy types of bagels with seeds to increase your fiber intake.
You can also make a bagel bread loaf. This looks like a typical sandwich loaf but the bread dough is boiled before baking it in a loaf tin.
Types of Bagel
There seems to be an endless variety and combination of flavors when it comes to choosing bagels. Let's look at some of the most popular and delicious types of bagels.
Plain Bagels
With the perfect scrumptious topping, the original plain bagel is anything but plain. Despite this not being one of the fancy bagels on this list, you can turn it into a mouth-watering delight.
The soft chewy bagel bread with its crusty outside has a denser texture and sweeter taste to regular bread. You can turn any type of plain bagel into the ultimate tempting breakfast bagel or a yummy lunchtime treat. The choices are endless when it comes to filing this simple bagel.
You can go for the classic bagel filling of cream cheese with a slice of deli meat or you can just toast it to enjoy with salted butter. You could also turn the plain bagel into a sweet delight with lashings of chocolate spread or delicious nut butter and jelly. Another type of plain sweet bagel with a healthier twist is to top it with mashed banana.
Its understated simplicity makes the plain bagel an enjoyable bread treat.
Everything Bagels
As its name suggests, everything bagels include many of the ingredients found in fancy bagels. Everything bagels pack a real punch when it comes to flavor and taste. These bagels contain almost everything including seeds, onions, a pinch of salt, and some spices.
For many bagel fans, everything bagels rank top of the list of tastiest bagels. In fact, if you have never experienced the taste of fresh bagels, these are definitely worth tasting as they are bursting with flavor.
When made right, all the savory ingredients complement each other. In one bite, you may get hints of onion and in another one it may be poppy or sesame seed that is the dominant flavor.
All you have to do to enjoy this savory bread bagel delight is pick out a scrumptious topping.
Onion Bagels
Onion bagels are dense doughy bread rolls with pungent savory onion flavors and aromas. The crispy golden-brown exterior is sometimes decorated with poppy seeds or black sesame seeds. The bold flavors of onion bagels are often enough to enjoy with just some melted butter for a decadent taste.
For an even better taste sensation, you could spread on traditional cream cheese to enjoy its distinct flavor. The onion flavor of these bagels also goes well with mashed avocado, sliced tomato, and asiago cheese.
If you want to get a real savory bagel, look for onion and garlic flavors.
Salt Bagels
Salt bagels may not seem appetizing, but they are a delicious choice if you want to create a crunchy savory bagel.
The salty crispy top is just enough to bring out your favorite flavors. These salted bread bagels go especially well with classic bagel toppings such as cream cheese and smoked salmon. You can add a few chopped scallions for color and give it a deeper taste.
If you decide to try a salt bagel for lunch, remember to go easy on salty toppings. Some deli meats are often high in salt and the taste may be too overpowering. For a breakfast treat, why not try a poached egg or some scrambled egg on a warm toasted bagel. You can enjoy this snack without having to add any extra salt.
Although a salt bagel may be quite plain, it all depends on how you spice it up to make it into a taste sensation.
Sesame Bagels
Sesame seeds are the classic topping on burger buns and they are also delicious on plain bagels. Sesame bagels have a crunchy exterior and chewy center that is great for many savory fillings. The small yellow seeds bring a distinct nutty flavor which turns a plain bagel into an incredibly delicious one.
The delicate flavor of sesame seed and the mildly sweet flavor of the bagel won't overpower other toppings. Even just spreading butter on a toasted bagel can make the bagel ooze with flavor. For a healthier option, you could drizzle some extra virgin olive oil over a grilled sliced sesame bagel.
Although sesame bagels may look like a bread roll, they taste much better due to the delicious soft bagel texture.
Egg Bagels
Egg bagels have egg yolks added to the recipe to create a scrumptious rich-tasting bagel. Of course, egg is a popular protein-rich topping for many breakfast bagels. The egg in these bagels gives the chewy dough a wonderful soft texture that is a delight to bite into. The richness of the dough also gives egg bagels a sweeter taste than plain bagels.
Slicing open the soft brown bagel crust reveals a deep yellow bagel that is delightfully sweet, yet still savory.
Apart from its yellow color, one of the differences between egg bagels and plain ones is the softer exterior. Egg bagels don't crisp up as much like traditional plane bagels during the baking process.
For some bagel enthusiasts, egg bagels have an excellent balance between sweetness, saltiness, and soft texture. The richer flavor is perfect if you think that the taste of plain bagels lacks something.
Garlic Bagels
If the taste of garlic is your savory preference, then garlic bagels are maybe just the bread snack you need. These extra-crispy bagels have a punchy garlic flavor that can go well with many savory fillings.
Depending on the bakery, garlic bagels may have garlic type of  oil brushed over the top. The most garlicky-tasting bagels are the ones with fresh garlic through the mix. Some people describe the taste of these bagels as similar to garlic bread but with a soft chewy texture.
What are the best toppings for garlic bagel? Because garlic itself has a strong flavor, the best toppings to complement these pungent bread rolls should have a milder flavor. Bagel delis usually recommend classic cream cheese, brined salmon (lox), or just plain butter.
Asiago Bagels
Soft fresh bagels with toasted Asiago cheese is an out-of-the-world flavor combination. The salty asiago Italian cheese topping provides these bagels a crunchy cheesy crust.
Asiago cheese is a strong-tasting aged cheese from the alpine region of Asiago in Italy. The cheese is a pale yellow color with a sweet taste. This makes it one of the best cheeses to complement the chewy textures of savory-sweet bagels.
The scrumptious cheese is grated and sprinkled over the bagels after boiling. The baking process results in a beautiful golden-brown full-bodied cheesy crust.
This fancy bagel doesn't need much to improve its wonderful taste. Just warm it up in the oven and spread butter to make a mouthwatering bagel oozing with a salty flavor. You could also try some other Mediterranean savory bagel fillings such as grilled zucchini, sundried tomatoes, and fresh mozzarella.
If you can't find Asiago bagels near you, regular cheddar cheese bagels are similar in taste and texture.
Whole Wheat Bagels
Whole wheat bagels are a healthier option to plain ones due to the fact they have more fiber. Like all varieties of bagels, these contain a lot of carbs, however, fiber is a carb that keeps you feeling fuller for longer and improves digestion.
Bagels made from whole wheat are just as soft, chewy, and tasty as their white counterparts. Because they don't contain refined grains or white flour, they are much better for you. Of course, if you are on a weight-loss diet, you still have to watch portion size. But the occasional whole wheat bagel with a low-fat topping can be a delicious healthy treat that won't pile on the pounds.
The great thing about choosing healthier bagel options is you don't just have to stick to plain whole wheat bread rings. The best bagel stores sell whole wheat everything bagels, whole wheat sesame bagels, and whole wheat poppy bagels. How you wish to top these flavorsome crusty bagels is up to you.
Pumpernickel Bagels
The dark brown color of pumpernickel bagels makes them one of the more unique types of bread snacks. Because of their glossy chocolaty color, you could be mistaken for thinking they are a variety of sweet bagel. These chewy nearly black colored bagels are made from rye flour.
Pumpernickel bagels have the wonderful chewy texture of classic plain bagels. Where these bagels really stand out is with their hearty rye-bread flavor. Some of the fancier pumpernickel bagels also contain coffee, caraway seeds, and molasses to give them a real unforgettable flavor.
All your favorite bagel toppings also go well on pumpernickel ringed bagels. Some of the best flavors for pumpernickel bagels are salmon and cream cheese (the classic bagel topping), pastrami, or a combination of cheese, onion, and tomato.
These deep and hearty soft black bread treats may not be to everyone's taste. But if you love rye bread, you will probably love the flavor of pumpernickel bagels.
Marble Rye Bagels
Marble rye bagels are another type of bagel that uses pumpernickel dough and rye dough to create this chewy bagel. The marbling effect of the bagel comes from the rye dough that is divided and colored and then twisted into a bagel shape.
Most bagel delis use marble bagels to create a classic Reuben bagel sandwich with pastrami and mustard. The hearty flavors of this chocolaty-brown bagel compliment any type of deli meat.
Chocolate Chip Bagels
Bagels flavored with chocolate chips give the perfect sweet-savory taste in these crunchy rolls. These bagels taste just good enough to eat them as they are if you want a chocolate treat. Or, you can really create the perfect sweet type of bagel by putting chocolate hazelnut spread on it.
Some bagel lovers also combine classic savory fillings such as bacon, deli meats, or cream cheese to make a savory-sweet snack. You could also get natural sweetness by spreading crunchy peanut butter and topping with mashed bananas.
Not everyone is a fan of sweet bagels. Some people say the savory dough with sweet flavors creates a weird bagel flavor. Of course, many others are fans of sweet-savory flavor combinations.
Cinnamon Bagels
If you love the taste of cinnamon, then cinnamon raisin bagels are a top-class choice. These fancy spiced bagels may be limited with the kind of flavors you can add. However, the sweet raisins and spicy cinnamon give this bagel a flavor all of its own.
Cinnamon bagels are a great breakfast treat. There is nothing as delicious as a warm cinnamon bagel with melted butter soaking into the warm bread. Cinnamon and raisin bagels are also a healthier option than getting stuck into a chocolate pie or cake.
Blueberry Bagels
Another favorite sweet breakfast treat is blueberry bagels. These bagels aren't as sweet or calorie-laden as blueberry muffins. The recipe for blueberry bagels is the same as for plain simple bagels, only with the addition of blueberries. The blueberries will result in bluish-colored bagels and they may cause an interesting marbling effect in the baked bagel.
Related articles: